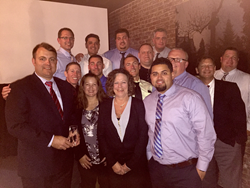 Matt told me he had these big plans and he absolutely had a plan and he had the leadership skills to get the job done.
Louisville, KY (PRWEB) November 10, 2017
It was a night to remember for Green Lawn Fertilizing/Green Pest Solutions as well as their President and Owner, Matt Jesson. At a reception in Louisville, KY, Lawn & Landscape Magazine, the leading trade publication of the lawn care and landscaping industry bestowed Jesson with their 2017 Leadership Award.
The awards reception was held at Patrick Oshea's in downtown Louisville, KY. It was a private event with several of the biggest leaders in the lawn and landscape industry in attendance. Matt, along with the President's with three other companies in the industry were honored with 2017 Leadership Awards.
Each member of the 2017 Leadership Award class had someone who they had very close business ties to introduce them before their acceptance speech. Matt's introduction was made by Joe Kucik, President of Real Green Systems whom Matt has formed a close friendship with over the 10+ years they have worked together. Joe recalled back to the time when he met Matt. At the time, Matt was evaluating CRM software to run his business on. Joe said "A lot of people have plans of grandeur. And, over the years, I have had over 100 people call me and tell me they had such plans then, I would never hear from them again. However, Matt told me he had these big plans and he absolutely had a plan and he had the leadership skills to get the job done!"
After Joe's awesome introduction, Matt Jesson came up to the podium to give his acceptance speech. In his speech he made sure to thank all the people in the lawn and landscape industry that helped him get Green Lawn Fertilizing to where it is today.
For anyone who knows Matt Jesson, they know that he will travel anywhere and for any cost to learn from the people and companies that have found success in areas that he is looking to help his company grow. When you enter the Green Lawn Fertilizing / Green Pest Solutions headquarters one of the first things you see on the wall is a map of the United States with over 30 red push pins. Each one of those pins represents a company Matt and/or members of his leadership team have traveled to for a learning opportunity (some of them multiple times). Matt made sure to highlight a few of the owners of these companies. He gave a special thanks to Jim Campanella from Lawn Dawg who took Matt under his wing when he was just starting out. He provided Matt with invaluable consulting on a weekly basis during the key early growth phase of Green Lawn Fertilizing. Then, Matt thanked Chris Senske and Dan Warehime of Senske Services, who were in attendance, for their generosity in helping him grow his company.
Matt also made a point that collaboration in the industry is a two way street. "If there is any advice I can give you tonight it's this: always look to the next generation of talent. Whether it's the future leaders of your company or young entrepreneur in this industry. Take the time to let them flourish and maybe one day they'll be on this stage thanking you".
The other thing about Matt's leadership style that stands out is his commitment to organization and data. At Green Lawn Fertilizing and Green Pest Solutions there is a report for just about everything you could have a report on. Every key performance indicator for the business is measured on a daily, weekly and or monthly basis. There is a training manual for every process and every key decision needs to be backed up with ample amounts of data. Joe Kucik certainly noticed this trait when Matt was evaluating moving Green Lawn Fertilizing to Real Green System's CRM, back at a time when Green Lawn Fertilizing was blip in the lawn care industry. "I'm thinking, here's this little company doing a big software evaluation? I was expecting it to be a couple of pages, maybe a checklist. It turned out to be a 150 page document. When I saw it I was blown away, like holy cow, this guy is doing things the right way."
Matt also made a point to thank fourteen members from his own Green Lawn Fertilizing and Green Pest Solutions leadership team, all of whom had made the 650 mile trip from Philadelphia to Louisville. He had each person stand when he called their name because he knew that his receiving this award was as much about his amazing team members as it was his own leadership skills. He also thanked his wife Kristy and his daughters Juliet and Joslyn for the strength they provide him on a daily basis.
The lawn care Industry is not unlike many others in that a very small percentage of companies ultimately find success and the four winners of Lawn & Landscape Leadership awards were among the minority that led their companies to beat the odds. Matt Jesson earned his award by building one of the largest locally owned and operated lawn care and pest control control companies in the US from the ground up, all by the age of forty. Matt was able to get his company to where it is today by being willing to learn, being willing to teach, being organized, being data driven and working harder and longer than the competition. His leadership has already led his company to great things and will continue to do so for the foreseeable future.
# # # #
Green Lawn Fertilizing and Green Pest Solutions is an independent lawn and pest control company that was founded in 2004. Under the leadership of Matt Jesson, President and Owner of Green Lawn Fertilizing Green Pest Solutions, they are dedicated to becoming an industry leading company in the Lawn and Pest Industry. In 2012, 2013, 2014, 2015, 2016, and 2017 the company has received the Inc. 5000 award for being recognized as one of the 5,000 fastest growing private companies in the America. Both companies are A-rated and accredited by the Better Business Bureau. They perform lawn fertilizing and integrated pest management service for residential and commercial clients. They are active members of PLANET, National Association of Landscape Professionals and NPMA. In 2017, the company received the Customer Service Excellence Award from the Greater Philadelphia Chamber of Commerce.