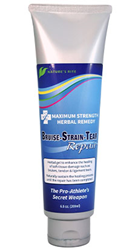 If I could get (Bruise-Strain-Tear Repair) in Brett Favre's hands, he might still be out there playing. Once athletes start to realize that, watch out."
BOCA RATON, Fla. (PRWEB) November 13, 2017
Nature's Rite, a health and wellness company offering unique herbal remedies, might just have the athletic world's best-kept secret in its Bruise-Strain-Tear Repair™.
The maximum-strength herbal remedy is specifically designed to enhance the healing of soft-tissue damage like bruises and tendon or ligament tears. Bruise-Strain-Tear Repair™, in its early stages of development, actually was field tested on a true athlete — a horse.
"It all started in the early 2000s. A friend of mine's horse pulled up lame. He used to do ridiculous things with the horse — walking across streams in Colorado where the water is cold and the rocks are slippery," said Steven Frank, the innovative herbalist behind Nature's Rite. "So the vet comes over and says, 'Wow you have a nasty tear in this tendon and you can't ride the horse for six months.'"
So Frank made a concoction, what he called "tendon rescue" back then, and his friend applied it to the horse's leg three times a day. After a month the horse was moving around quite well. After two months cooped up in a pasture, she started getting antsy.
"So he went and got the vet, vet did the ultrasound again and said, 'I don't know what you did but she's good to go,'" Frank said. "It healed her up in two months instead of his estimated six. So we thought, 'Maybe we've got something here.'"
Clinical trials followed and the recipe was finalized, consisting of comfrey and plantain for tissue mending, white willow bark for pain relief, witch hazel to relax muscle fibers and increase flexibility, rosemary and thyme to increase circulation, arnica Montana for support of healing and peppermint leaf for cooling and soothing without the burn of menthol.
"This can be a career saver for athletes. If you're a pitcher, a quarterback, a tennis player with a bad tennis elbow, this will get you back in the game and keep you in your sport for a decade longer than you thought possible," Frank said. "If I could get it in Brett Favre's hands, he might still be out there playing. Once athletes start to realize that, watch out."
For more information on Bruise-Strain-Tear Repair™ and other Nature's Rite products, and to make a purchase that includes a 30-day money-back guarantee, visit http://www.mynaturesrite.com.