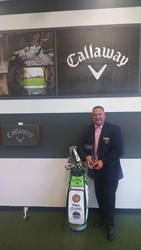 "Paul demonstrates an unbridled passion for his profession as well as golf equipment, and shares this with the membership at St. Andrews Country Club"
BOCA RATON, Fla. (PRWEB) November 10, 2017
Callaway Golf Company recently awarded Paul Clivio, Director of Golf at St. Andrews Country Club the 2017 Staff Professional of the Year. Clivio has been recognized for his out of the box thinking and his continuous efforts and commitment to developing a successful golf program over the past 23 years.
"Paul demonstrates an unbridled passion for his profession as well as golf equipment, and shares this with the membership at St. Andrews Country Club," said Jay Allen, Director, Green Grass Sales & Initiatives, Callaway Golf Company. "He uses and trusts Callaway Golf equipment to help his members play their best." Callaway Golf Company manufactures and sells golf clubs and golf balls, and sells bags, accessories and apparel in the golf and lifestyle categories, under the Callaway Golf®, Odyssey®, OGIO® and TravisMathew® brands worldwide.
Clivio also recently received the "Ace in the Hole" Award from America's Healthiest Clubs. He was featured in their monthly digital publication Passion, which is designed to recognize individuals for their contributions to the betterment of the industry through wellness. Clivio was honored as one of "eight game-changers, innovators and passionate club managers & department heads that are shaping the future of the private club industry."
Paul Clivio joined the St. Andrews team 23 years ago and began in the bag room, leaving behind a successful career in the plastics industry to pursue his passion for golf instruction. In 2012 he was promoted to Director of Golf and will soon be named as the president of the SE Florida chapter of the PGA.
"Paul is the embodiment of our "Pride" motto and we are thrilled that he was recently awarded the 2017 Callaway Staff Professional of the Year Award and the America's Healthiest Club Passion "Ace in the Hole" Award," said Craig Martin, General Manger C.C.M. & C.O.O. at St. Andrews Country Club. "I couldn't be more proud of Paul and his many achievements in the 23 years he has been at St. Andrews," Martin continued. "I'm especially pleased that he is being recognized around the country for his talents and professionalism."
About St. Andrews Country Club
St. Andrews Country Club of Boca Raton, resident-only Distinguished Club of the World and ranked in the Top Ten of America's Healthiest Club's is internationally recognized for magnificent estate residences and recently approved $25 million in renovations. Phase III of the Club Improvement Plan includes a complete renovation of the Fitness/Tennis building beginning in summer 2018. The Club features superior amenities, two 18-hole championship golf courses, including an Arnold Palmer Signature Design® and the brand new Fazio II designed by Tommy Fazio II. The club offers a comprehensive Golf Performance Center with indoor hitting bay, private practice area, V1 Digital Coaching System and FlightScope Launch Monitor® technologies, and a Callaway Golf® branded club fitting area. Other features include a full service spa and fitness center and a 125,000 square foot completely remodeled Clubhouse with five dining venues. A pristine Recreation & Aquatic Center features three pools, poolside dining, Splash Club and state-of-the-art playground equipment and air-conditioned game room. St. Andrews has played host to numerous PGA golf exhibitions led by touring pros such as Phil Mickelson, Arnold Palmer, John Daly and Rocco Mediate, and is the home course to LPGA Touring Professional and resident Morgan Pressel. St. Andrews, along with Aaron Krickstein, Director of Tennis, host a variety of exhibition matches with ATP Tour such as Jimmy Connors, Andy Roddick, Jim Courier, Ivan Lendl and Jimmy Arias. Please visit http://www.standrewscc.com or follow us on Facebook, Twitter, LinkedIn, YouTube, Pinterest and Instagram.