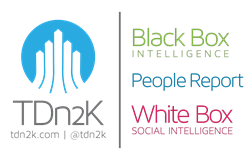 Over half of the brands tracked by Black Box Intelligence had positive sales for the month. For comparison, fewer than a third of the brands were up in September.
DALLAS (PRWEB) November 09, 2017
After disappointing sales in the third quarter, the restaurant industry was desperate for some good news and October delivered with comparable sales turning positive for the first time since May of 2016. The 0.9 percent growth in October is the best result in over two years. These insights come from TDn2K™ data through The Restaurant Industry Snapshot™, based on weekly sales from 30,000 restaurant units, 155+ brands and representing $68+ billion dollars in annual revenue.
Same-store traffic declined -1.5 percent, continued evidence that falling guest counts remain the biggest challenge for chain restaurants since the recession. However, October's traffic results do represent the best month since February of 2016 and are significantly improved over the average -3.6 percent traffic decline in the first three quarters of the year.
"Another encouraging sign was that the October sales improvement was evident at the brand level and not only in the aggregate numbers," stated Victor Fernandez, executive director of insights and knowledge for TDn2K. "Over half of the brands tracked by Black Box Intelligence™ had positive sales for the month. For comparison, fewer than a third of the brands were up in September."
The Macroeconomic Environment
"The economy posted its second consecutive quarter of 3% GDP growth, an indication that business activity is really solid," explained Joel Naroff, president of Naroff Economic Advisors and TDn2K economist. "This occurred despite the hurricanes devastating parts of Texas and Florida, making the growth rate even more impressive."
The economy's resilience was seen in the solid October job increase and decline in the unemployment rate to the lowest level in seventeen years. The strong economy is allowing consumers to spend more and that demand is being spread around. However, there is a warning in the data. Wage gains remain muted and households are now pulling from savings to maintain their standard of living. Growth should be strong enough going forward to tighten the labor market further, but without better wage increases, it will be hard to sustain the recent strong growth in consumer spending through all of next year.
Guest Check Growth Picking Up
On top of improved traffic performance, top lines benefitted from higher guest checks. On average, consumers spent 2.5 percent more in October than they did in the same period last year. Since January 2017, guest checks had only been growing at an average 2.0 percent.
Strong Month for Table Service Brands
The sales recovery in October extended across industry segments, all of which posted their highest sales growth rates since July. The month was particularly strong for table service brands: family dining, casual dining, upscale casual and fine dining all had positive sales growth in October.
Recovery Has Been Strong in Texas and Florida
Geographically, all regions of the country had stronger sales in October than September. Sales improvement was particularly strong in Florida (up 11.3 percentage points from September) and Texas (3.4 percentage point improvement). These two states, along with the Western region, were the three best performing regions for the month.
Key to Workforce Success: Focus on the General Manager
The national unemployment rate, which is highly correlated to restaurant hourly employee turnover, dipped again in October to 4.1 percent. This is a seventeen-year low. Restaurant turnover typically rises when unemployment falls. With turnover already at historically high levels, the outlook is that operators will continue to struggle to find and retain hourly employees.
According to TDn2K's People Report™, hourly employee turnover decreased slightly in September, signaling that perhaps turnover has reached a plateau. Unfortunately, management turnover continued to increase.
People Report research has shown that a primary reason restaurant managers leave their jobs is for higher compensation. This suggests rising labor costs in upcoming quarters as restaurants feel the pressure to pay more to attract and retain key employees. This research also underscores the critical importance of the general manager position. "We know that the success of the general manager will impact the key driver of service, and ultimately the guest's intent to return," commented Joni Thomas Doolin, CEO and People Report founder. "Companies that do a better job of attracting, compensating, retaining and developing this key position will continue to have a competitive advantage."
Looking Ahead
Restaurant sales have been on an upswing since the low point in July and finally broke through to positive territory in October. Looking ahead to the fourth quarter and the holiday season, the question is whether this trend can be sustained or if it's just a short-term anomaly.
"On the positive side, economic indicators such as improved GDP growth and strong consumer confidence point to a favorable macro environment. Also, we'll be comparing to generally weak results from last year," expressed Fernandez. "But retail sales can be a big factor, especially the degree to which online shopping impacts brick-and-mortar visits. Overall, we're encouraged by depth and breadth of recent trends and are cautiously optimistic they will extend through the fourth quarter."