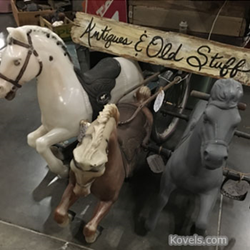 CLEVELAND (PRWEB) November 10, 2017
The antiques experts at Kovels.com list 6 favorite indoor flea (and one outdoor) markets overflowing with treasures waiting to be found. Each is renowned for its scale, variety of items, negotiable prices and popularity among both locals and tourists. Best of all, they are opportunities to have fun, learn something new, and knock some items off the holiday gift list.
1. "Shipshewana Across the Road" Indoor Market
Farmstead Expo Barn, 368 S. Van Buren St., Shipshewana, Indiana
Fridays and Saturdays until December 16, plus Tuesday, November 28, for Wana Night Out
10 a.m. to 5 p.m.
Shipshewana Flea Market is heading "across the road" and opening a new indoor market for the fall/winter season.
2. The Factory Antique Mall
50 Lodge Lane, Verona, Virginia
Monday through Thursday 10:00 a.m. to 5:00 p.m.; Friday and Saturday 10:00 a.m. to 6:00 p.m.; Sunday: 1:00 p.m. to 6:00 p.m.
Nestled in the Shenandoah Valley, with 121,000 square feet of antiques, furniture and collectibles (and still growing), the Factory Antique Mall claims to be the largest mall in the country.
3. City-Wide Garage Sale, Keeping Austin Vintage Since 1977
November 11 and 12, 2017, Bell County Expo Center, Belton, Texas
Saturday 9 a.m. to 5 p.m.; Sunday 11 a.m. to 4 p.m.; $5 (12 and under free).
November 25 and 26, 2017, Palmer Events Center, Austin, Texas
Saturday 10 a.m. to 5 p.m.; Sunday 11 a.m. to 5 p.m.; $7 (12 and under free). Early shopper Saturday only: 8:30 a.m.; $12.
Over the years, City-Wide Garage Sale has tried to maintain its identity as the place to shop for all things vintage and collectible, no imports, crafts, novelties or assorted new items allowed.
4. Lakewood 400 Antiques Market
1321 Atlanta Highway, Cumming, Georgia
November Market – November 17, 18 and 19, 2017
December Antiques & Gift Market – December 1, 2 and 3, 2017
Hours: Friday – 9 a.m. to 5 p.m.; Saturday – 9 a.m. to 6 p.m.; Sunday – 10 a.m. to 5 p.m.
Admission: $3 Friday, Saturday & Sunday, ticket good all weekend, children under 12 free
The Lakewood 400 Antiques Market is perfect for shoppers hunting for antiques, vintage furniture and accessories, home and garden decor, and services like furniture restoration and appraisal, jewelry repair, and on-site framing. It is heralded by USA Today as one of America's best.
5. Randolph Street Holiday Market
1340 W. Washington Street, Chicago, Illinois
Saturdays and Sundays, November 18 and 19 and December 16 and 17, 2017; 10 a.m. to 5 p.m.
Downtown Chicago's Randolph Street Market, located west of the Loop, features vintage, antique, and global goods that provide a mix of merchandise for all price ranges, from thrifty to extravagant. Open one weekend during most months throughout the year.
6. Scott's Antique Market
Atlanta Expo Center, Atlanta, Georgia
Thursday, November 9 to Sunday, November 12, 2017
Thursday, December 7 to Sunday, December 10, 2017
Thursday, January 11 to Sunday, January 14, 2018
Scott's advertises itself "America's favorite treasure hunt." It's one of America's largest antiques shows, with over 2,000 booths both outdoors and in two buildings with a shuttle that runs back and forth.
7. Rose Bowl Flea Market
Pasadena, California
Second Sunday of every month: November 12, December 10, 2017, January 14 and February 11, 2018
This gathering on the second Sunday of every month — outdoors at the Rose Bowl in Pasadena — is considered to be one of the best on the West Coast. It attracts as many as 2,500 vendors and 20,000 shoppers.
About Kovels.com
Kovels.com, created by Terry Kovel and her daughter, Kim Kovel, provides collectors and researchers with up-to-date and accurate information on antiques and collectibles. The company was founded in 1953 by Terry Kovel and her late husband, Ralph. Since then, the Kovels have written some of America's most popular books and articles about antiques, including the best-selling annual Kovels' Antiques & Collectibles Price Guide, now available in its 50th edition. The website, Kovels.com, online since 1998, offers more than a million free prices, and includes a free weekly email, "Kovels Komments." It gives readers a bird's-eye view of the market through the latest news, auction reports, a Marks Dictionary, readers' questions and answers and much more.
Contact Information:
Liz Lillis
216.752.2252
Pr(at)kovels(dot)com