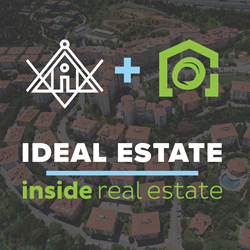 Our customers will be able to easily and dramatically expand new deals recommendations from their community networks because of this exclusive partnership.
(PRWEB) November 15, 2017
Inside Real Estate today announced an exclusive partnership with the fastest growing real estate networking portal to ever enter the market, Ideal Estate. The companies have agreed to jointly develop special features allowing their mutual customers to engage, empower and expand their referral networks, increasing their deal flow.
By leveraging Ideal Estate's referral network and Inside Real Estate's powerful SmartCRM and Marketing Autopilot features, customers will have the ability to expand the reach of their network, gain access to new sources of deal-flow and use intelligent automation to capture and nurture more deals effortlessly.
"When we saw Inside Real Estate's next generation platform, kvCORE, we were blown away," said Brody Saunders, CEO of Ideal Estate. "Its sophisticated automation capabilities, ease of use and breadth are unmatched. They have taken the idea of a single platform to a new level. There is nothing like it. We knew right then, we had to partner with them."
Ideal Estate is taking the industry by storm. Roughly 400,000 real estate professionals and home buyers have already set up profiles on the portal and are now taking advantage of its powerful features. Ideal Estate's network portal, like a LinkedIn for real estate, is becoming the hotspot for agents, lenders, appraisers, inspectors, insurance agents, title and escrow officers and other real estate professionals to leverage their referral networks online.
Inside Real Estate CEO, Ned Stringham, shared his excitement about teaming-up saying, "I did a double take when I heard about how fast Ideal Estate is growing. They have tapped into a huge unmet need in the industry to digitize the referral networks of real estate professionals. Our customers will be able to easily and dramatically expand new deal recommendations from their community networks because of this exclusive partnership. Its another tool we are delivering to our customers to help them win in a competitive market. We are excited to be partnering with this innovative newcomer to the space."
ABOUT INSIDE REAL ESTATE
Inside Real Estate is among the most successful and fastest growing real estate software companies in the market and serves tens of thousands of agents, teams and brokers throughout the U.S. and Canada. The company is the residential real estate SaaS leader and developer of the kvCORE Platform.
kvCORE is the only platform for brokers, team and agents to run their entire business on one solution. The platform's components include a Lead Engine, Website & IDX tools, SmartCRM, Listing CRM and Transaction Integrations—all powered by Marketing Autopilot with behavioral automation, Business Analytics to understand and grow your business, and a scalable cloud infrastructure
For more information, please visit http://insiderealestate.com/
ABOUT IDEAL ESTATE
Ideal Estate is the first real estate portal and network dedicated to supporting agents and their many professional partners. Ideal Estate unlocks the power and hidden potential in the real estate professional's personal network by facilitating the sharing, referring and engagement with other professionals.
For more information please visit: http://idealestate.co/about