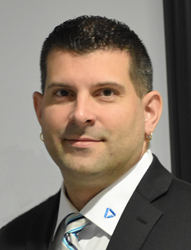 steady, broad-minded leadership that fosters trust and excellence
EAST GREENWICH, R.I. (PRWEB) November 13, 2017
On November 1, 2017, Mr. Steve DiPalma was named COO of DEWETRON, Inc, the American subsidiary of DEWETRON GmbH. This position was held by Mr. Klaus Quint until his January 1, 2017 promotion to CEO of DEWETRON GmbH. DEWETRON GmbH, is an Austrian based company specializing in the development and manufacture of Industrial Test and Measurement Solutions and Power Analyzers.
Steve has been with the company for 6 years and in that time built his product knowledge as a Service Engineer, Production Engineer and Production Manager.
Amiable and laidback by nature, Steve's leadership is at the same time steady and broad-minded, fostering a corporate culture grounded in trust and excellence. Steve attributes his placid demeanor in the face of stress and pressure to his time in the military.
The first of many new initiatives, Steve launched the North American Customer Care Center on August 1, 2017 to provide North American customers with more efficient calibration, maintenance and repair services.
Before joining DEWETRON, Steve served 5 years in the United States Air Force with a portion of that time as a Military Police Officer and 10 years working in customer service and operations management as a civilian.
Steve is a local Rhode Islander, growing up in Warwick and graduating from Bishop Hendricken High School. He continues to make his home in Warwick and is proud to be called husband and father.