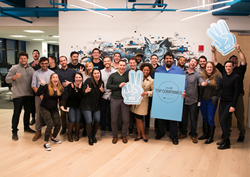 "It is an honor for Cybereason to join LinkedIn's prestigious list of the Top 50 Startups validating our explosive growth in total employees, revenues and new customers over the past two years," said Lior Div, CEO and co-founder, Cybereason
BOSTON (PRWEB) November 09, 2017
Cybereason, creators of the leading cybersecurity data analytics platform including endpoint detection and response, next-generation antivirus, and active monitoring services, today announced it was featured on LinkedIn's 2017 Top 50 Companies | Startups List, which celebrates the industry disruptors where professionals want to work. Cybereason ranked # 23 on a list that contains some of the world's most innovative and iconic technology brands including Airbnb, Uber, Lyft, Dropbox, WeWork and Slack. Cybereason is the only Massachusetts and New England company featured on the list.
"Massachusetts leads the country in innovation because of companies like Cybereason who continue to advance the Commonwealth's cybersecurity and technology sectors," said Governor Charlie Baker. "We congratulate Cybereason on this well-earned distinction and look forward to many more Massachusetts companies joining them in the coming years as they benefit from our highly skilled and exceptionally well-educated workforce."
"It is an honor for Cybereason to join LinkedIn's prestigious list of the Top 50 Startups validating our explosive growth in total employees, revenues and new customers over the past two years," said Lior Div, CEO and co-founder, Cybereason. "Today in our open and digitally connected world, protecting people and information is crucial, and businesses are vulnerable. Cybereason is reversing the advantage the adversaries have had and is giving the advantage back to companies."
To compile the list, LinkedIn looked at employee growth along with billions of actions of LinkedIn's more than 500 million members such as job seeker interest via views and applications and member engagement with the company and its employees.
In 2017, Cybereason has achieved a number of milestones and been the recipient of many industry leadership and innovation awards.
Recent Company Milestones & Award Highlights
October 2017: Lior Div, CEO, named a Power 50 newsmaker by the BBJ
October 2017: Cybereason surpassed 310 employees globally
September 2017: Launched SecureMA initiative
September 2017: Researcher Amit Serper discovers vaccine for Bad Rabbit ransomware
September 2017: Cybereason surpasses 325 employees globally
June 2017: Closed a Series D funding round led by SoftBank
June 2017: Named a Top 25 Technology Company to Watch by The Wall Street Journal
June 2017: Launched UBU, the company's diversity program
June 2017: Lior Div, CEO, named EY Entrepreneur of the Year New England Finalist
June 2017: Researcher Amit Serper discovers NotPetya vaccine
March 2017: Named by JMP Securities Super 60 Company
About Cybereason
Cybereason, creators of the leading cybersecurity data analytics platform, gives the advantage back to the defender through a completely new approach to cybersecurity. Cybereason offers endpoint detection and response (EDR), next-generation antivirus (NGAV), and active monitoring services, all powered by its proprietary data analytics platform. The Cybereason suite of products provides unmatched visibility, increases analyst efficiency and effectiveness, and reduces security risk. Cybereason is privately held, having raised $189 million from top-tier VCs, and is headquartered in Boston, with offices in London, Tel Aviv and Tokyo.
Learn more: https://www.cybereason.com/
Follow us: Blog | Twitter| Facebook
Media Contact:
Bill Keeler
Director, Public Relations
Cybereason
bill.keeler(at)cybereason(dot)com
(929) 259-3261