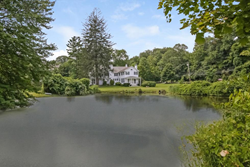 POMPANO BEACH, Fla. (PRWEB) November 10, 2017
"New York Home Has Ties to Mary Todd Lincoln & Hollywood"
A traditional Colonial farmhouse that was once owned by a nephew of Mary Todd Lincoln and many years later chosen by Hollywood location scouts for the movie home in "Unfaithful" is for sale at $2.395 million. The 2001 film, starring Richard Gere and Diane Lane as a married couple whose marriage was falling apart, takes place in Westchester County, New York where the home is located.
"JP Morgan III Island Estate"
By the time J.P. Morgan's great grandson, Junius Spencer Morgan, III, was ready to build his own great New York estate, he chose an entire island of 45 acres on Long Island's north shore. For those who saw the 1995 remake of "Sabrina" that was filmed at the main mansion, which included much of the interior of the home as well as the gardens designed by Frederick Law Olmsted, landscape designer of Central Park. The estate includes the 12-bedroom manor house and five other residences including the Creek House that Jackie Kennedy leased for the summer of 1964 - a few months after her husband's assassination. Now for sale at $125 million.
"1967's Summer of Love Victorian"
Fifty years ago, San Francisco's Haight Ashbury neighborhood was the epicenter of the Summer of Love. A flashback to the flower-children days, a Haight Ashbury Victorian apartment building with colorful retro record store on the first floor and eight bedrooms (plenty of places to crash) is for sale. On a street with a vibrant nightlife, head shops and a few spaced-out residents left over from the 1960s, the 1902 building is priced at $2.35 million.
"Phyllis McGuire's Las Vegas Home"
Phyllis McGuire, the lead vocalist of the 1950's hit trio The McGuire Sisters, has one of Las Vegas's unique homes. A 26,000-square-foot mansion with a copy of the Eiffel Tower rising 44 feet in the center of the house, bulletproof windows, a basement disco and electric shutters that close instantly at the touch of a button. There is also a guest mansion, two swimming pools, a lagoon, tennis court, and Phyllis's Place with grill, ice cream bar and soda fountain. Many of the major stars of the day partied there - a home away from home for them when in Las Vegas. Her Las Vegas mansion is priced at $6.5 million.
Visit TopTenRealEstateDeals.com for more spectacular homes and today's most entertaining and unusual real estate news stories. News such as Richard Nixon's Western White House, Johnny Carson's Malibu cliff house and Johnny Depp's Kentucky horse farm.