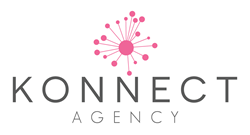 LOS ANGELES (PRWEB) November 09, 2017
Konnect Agency, a public relations firm with social media, marketing and content creation capabilities, was named one of the fastest growing private companies in Los Angeles in the annual top 100 ranking published by the Los Angeles Business Journal. The agency, which made its debut appearance on the list at No. 84, grew by 116 percent over the 12-month period that factored into the rankings.
"Since the beginning, we've focused on steady annual growth across our franchise, food & beverage, lifestyle and family divisions," said Sabina Gault, founder and CEO of Konnect Agency. "As an agency that calls Los Angles home, we couldn't be more excited for this honor or more proud of the team we've built."
The Los Angeles Business Journal unveiled its rankings and honored Konnect Agency at their annual Fastest Growing Private Company Awards ceremony at an event on Nov. 7, 2017 at City Club LA. The annual rankings identify the private companies that are exhibiting the highest revenue growth (a minimum of $5 million) in the Los Angeles area.
Konnect Agency was established in 2009 in Los Angeles and now has additional offices in New York and Austin, Texas.
About Konnect Agency
Konnect is an agency with unmatched business acumen that provides public relations, interactive, marketing and content creation services for food & beverage, franchise lifestyle and family brands. With a mission of tackling clients' greatest business challenges, Konnect develops strategic solutions that keep brands relevant and aid in healthy growth and expansion. Konnect is headquartered in Los Angeles with offices in New York City and Austin, Texas, and works with companies from around the world.