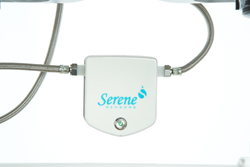 With the Water Shield, you can ensure your city is a future leader in smart water management.
TORONTO (PRWEB) November 09, 2017
Just six days after initially launching its Kickstarter campaign, Water Shield surpassed its $40,000 CAD funding goal with the help of 178 backers and counting.
Developed by Serene Sensors Inc., Water Shield is a smart device that effectively analyzes tap water. The product mounts under the sink and is fully operated by a mobile app while providing detailed readings on tap water chemistry. The device can report on seven parameters: Lead (Pb), Cadmium (Cd), Arsenic (As), Copper (Cu), Mercury (Hg), Total dissolved solids (TDS), and Acidity (pH). Additionally, the water analyzer can be used with or without filtration systems. When used with filtration systems, Water Shield can accurately determine when to change a water filter or assess when it is no longer functioning optimally.
Recently, there has been a lot of uncertainty surrounding the quality, taste, and safety of tap water in light of crises such as Flint, Michigan. According to the ASCE's Infrastructure Report, 27 million people drank from water systems with at least one health-based violation. Water Shield was developed to help consumers manage their filtration devices more efficiently, serve as a detection system for water contamination and, after data is collected from various regions, help in the creation of a smart city management tool to improve water infrastructure.
"Most residents receive their water from a common, municipal distribution system. However, there is no way to compare water quality between households on a consistent basis," said Co-Founder and CEO Hamed Jafari. "With the Water Shield in your home, the data you generate can link with others in your neighborhood to diagnose infrastructure issues and monitor emerging contaminants for your mutual protection. Big Data and Artificial Intelligence will change the ways our cities are managed. With the Water Shield, you can ensure your city is a future leader in smart water management."
Consumers can easily install Water Shield, and the device is designed to mount under a sink. Next, users will be prompted to download the Water Shield app and pair it with their smartphone. The final version of the app is compatible with both IOS and Android devices. Once installed properly, Water Shield can conduct regular, automated testing from anywhere. The product provides the user peace of mind in knowing that their tap water chemistry is within the acceptable Environmental Protection Agency (EPA) and World Health Organization (WHO) guideline limits for safe consumption. If it is not, Water Shield will provide both long-term and short-term recommendations on how to fix an issue.
After successfully funding, Water Shield is showing no signs of slowing down and is still available on Kickstarter starting at $75 CAD. To learn more, visit http://bit.ly/WaterShieldKS.
About Serene Sensors Inc.
Headquartered in Toronto, Canada, Serene Sensors is on a passionate campaign to bring greater clarity to your tap water. With technology five years in the making, the company was founded with the purpose of providing meaningful and accessible water knowledge for everyone. To learn more, visit http://www.serenesensors.com.