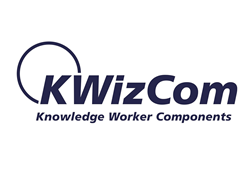 TORONTO (PRWEB) November 09, 2017
KWizCom Corporation, a leading developer of SharePoint Forms & Mobile Solution, as well as numerous other turn-key SharePoint add-ons and apps for Office 365, announced they are a Gold Sponsor of the European SharePoint Conference, taking place in Dublin, Ireland from November 13 to 16 this year.
The European SharePoint Conference is the largest conference of its kind in Europe. The conference will include over 100 SharePoint, Office 365 & Azure sessions by the world's leading experts in the field, along with 150+ hours of training with 8 full day tutorials which will be run by internationally renowned 'Masters of the Trade'.
KWizCom invites the attendees of the conference to visit the company's booth #35 where they will be able to discuss their SharePoint requirements and find solutions for their SharePoint challenges. Additionally, the attendees visiting KWizCom booth will get the opportunity to play fun and simple Forms Superhero trivia games and win gift cards and other prizes, while familiarizing themselves with the groundbreaking add-ons and SharePoint apps KWizCom offers.
For more details on the conference, please visit: https://www.sharepointeurope.com/
About KWizCom
Since 2005, KWizCom has provided innovative solutions and services to make SharePoint even better for over 7,000 companies worldwide. KWizCom is a leading provider of SharePoint Forms, Mobile, Wiki solutions, and over 70 other add-ons for SharePoint on-premises and apps for Office 365.
KWizCom is a Gold Certified Microsoft Partner is headquartered in Toronto, Canada to find out more about the company visit http://www.kwizcom.com.
Follow KWizCom on Twitter @KWizCom
Join KWizCom on LinkedIn http://www.linkedin.com/company/kwizcom
Become a fan of KWizCom on Facebook: https://www.facebook.com/KWizCom
Contact a KWizCom Account Specialist at +1-905-370-0333/+1-855-KWIZCOM or info(at)kwizcom(dot)com