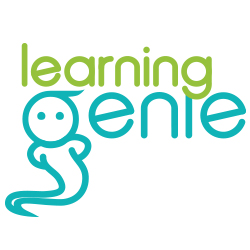 "NewSchools Ignite is rooted in research, and we always start by talking to people in the field who are doing this work," said Tonika Cheek Clayton, managing partner, NewSchools Venture Fund. "
CARLSBAD, Calif. (PRWEB) November 13, 2017
Learning Genie, Inc. is proud to announce its selection as a member of the Fall 2017 Ignite cohort at NewSchools Venture Fund.
Learning Genie is one of 15 ed tech companies awarded funding through the NewSchools Ignite Early Learning Challenge. Each cohort member is committed to create or expand an innovative ed tech product to help millions of students across the country in PreK-2nd grade. In addition to the funding, NewSchools will provide management assistance and create a community of practice for the cohort members. The grant supports Learning Genie's commitment to continuously innovate and build its personalized learning platform to support teachers and underrepresented students in Head Start communities and state-funded preschools.
Learning Genie is a personalized learning platform for supporting early learning educators, administrators and parents through every step of the education cycle. Learning Genie's interactive app helps teachers with authentic evidence-based assessments, generating analytical reports, and creating personalized lesson plans. Through the implementation of the lesson plan, the Learning Genie tool also focuses on promoting family engagement through sharing interactive learning contents, parenting tips and activities to try at home.
"We are very excited about this award and the opportunity it opens up for our platform," said Dr. Gene Shi, CEO of Learning Genie. "At Learning Genie we are committed to supporting early learning educators to deliver high-quality learning experiences for children, especially children impacted by the deep achievement gap. Our ultimate goal is to promote children's confidence, curiosity and grit, while meeting their individual needs. Our interactive platform allows educators to become more efficient, and enable a seamless collaboration between parents and teachers towards children's school readiness goals."
"NewSchools Ignite is rooted in research, and we always start by talking to people in the field who are doing this work," said Tonika Cheek Clayton, managing partner, NewSchools Venture Fund. "We heard from both educators and ed tech developers about the lack of high-quality tools to support academic and social development for young students. They also emphasized the importance of limiting the hours spent on devices and promoting interaction with parents and teachers. Given the importance of these early years, NewSchools Ignite is thrilled to invest in Learning Genie, Inc. to develop engaging tools to reimagine early learning."
About Learning Genie, Inc.
Learning Genie provides an open platform for early learning educators from customizable evidence-based assessment and data-driven analytics to personalized lesson planning and family engagement. Learning Genie is the most complete and efficient portfolio tool that helps enhance child outcomes and school readiness. Learning Genie's mobile-based data service helps preschools better record children's daily activities and provides unique data-mining features, which allow preschools to optimize their daily operation, track a child's learning progress and securely share between teachers and parents. Learn more at https://www.learning-genie.com/.
About NewSchools
NewSchools Venture Fund is a national nonprofit that finds, funds and supports promising and innovative education entrepreneurs, teams of educators and education leaders. We help them accomplish their missions to achieve outstanding results for the schools, students and educators they serve. We are committed to helping students graduate high school prepared and inspired to achieve their most ambitious dreams and plans. Through our investing, management assistance, network building, and thought leadership, NewSchools helps to reimagine K–12 education.