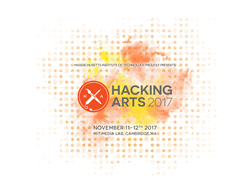 BOSTON (PRWEB) November 10, 2017
Since first introducing the Perception Neuron full-body, inertial-based motion capture system in 2014, Noitom has striven to establish strong and lasting connections with the academic community. Continuing on that path, Noitom will be participating in the annual MIT Conference, Arts & Tech Expo, and Hackathon in Cambridge, Massachusetts the weekend of November 11 and 12th.
The MIT Hacking Arts is dedicated to igniting entrepreneurship and innovation within the creative arts. The event brings together creative technologists, artists, innovators and hackers at MIT.
The Tech Expo is a part of the event where attendees can interact with startups and artists learning about their new products, art and ideas. With the hackathon, the goal of Hacking Arts is to generate introductions among professionals that will inspire not only their hackathon projects, but future work as well.
Perception Neuron will take part in hosting the event's hackathon where the challenge will center around the conference theme, "Why Human." Participants will create a project using the Perception Neuron system during the hackathon taking place from Saturday at 7pm to Sunday at 4pm. During the Expo portion of the event, Perception Neuron will also be performing live demos with VFX software by Notch and 3D real-time facial capture by Facerig.
For more information about MIT Hacking Arts 2017, please visit http://hackingarts.com/#ha2016
For more about Perception Neuron, visit neuronmocap.com
Founded in 2011, Noitom Ltd. works with a team of dedicated engineers who develop world-class motion capture technology for consumer and industrial markets through the integration of MEMS sensors, pattern recognition, human kinetics and wireless transmission. Noitom is an international leader in innovative technology for use in animation, film, medical applications, robotics and gaming. Noitom is headquartered in Beijing with affiliate offices in Shenzhen. For further information about Noitom and its services, please visit, http://www.noitom.com. For general inquiries, please email, info(at)noitom.com.jn