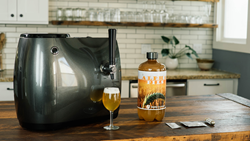 To receive this recognition from CES after all the support we've received during our crowdfunding campaigns is a great honor.
NEW YORK (PRWEB) November 10, 2017
On the heels of presales topping $380,000 on Kickstarter and HOPii's ongoing successful crowdfunding campaign on Indiegogo InDemand – the popular home brewing system has now been selected as an innovation award honoree by the Consumer Electronics Show (CES).
San Jose, California-based HOPii has been selected as a CES 2018 Innovation Awards Honoree in the category of home appliances, with the announcement made at CES Unveiled New York – a CES networking event where exhibitors showcased their latest products for the media.
"To receive this recognition from CES, on top of all the support we've received during our crowdfunding campaigns, is a strong validation for our product," said Jong-Wook Shin, CEO of HOPii, Inc. "With the growth of the craft beer market in America and worldwide, this honor will help us continue to grow our brand and reach those who want to enjoy their favorite beers with the freshest taste possible."
HOPii is the only device on the market that uses authentic ingredients made by the breweries that can perfect the fermentation process to provide the best, freshest-tasting beer drinking experience. The device takes the beer juice called 'wort' that's professionally made by the breweries themselves and allows beer drinkers to ferment these craft beers perfectly in their homes with a touch of a button.
Since the distribution process can be longer and include multiple transfers during transport, by the time beer drinkers get to taste the beer from their favorite brewer it is no longer as fresh, and the flavor has been degraded dramatically. With HOPii, beer drinkers enjoy the freshest out-of-the-tank drinking experience.
Also, by connecting HOPii with its app, HOPii owners can receive beer recommendations, connect with other craft beer lovers on social media and purchase beer kits directly from the app for a complete and connected craft-beer experience.
HOPii comes with a highly-controlled, light-free, oxygen-free preservation system. It also features a one-touch sanitizing system, which means home brewers don't have to bother with taking the HOPii apart for cleaning.
With the purchase of HOPii, owners can order a Beer Kit from their favorite craft brewer that includes a three-liter (101.4 ounce) bottle with wort made authentically by the brewery and an ingredient pack with ingredients such as dry hops and flavors, along with a small coffee-stick pack of yeast. Depending on the beer, brewing is completed in about a week – and the beer made can be consumed from inside HOPii using the mini-bar tap or you can take the bottle out and brew another craft beer immediately while drinking the one that was just brewed.
HOPii 's patent-pending system is completely oxygen-free and bacteria-free, so the ingredients are always fresh and the taste of beer is consistent every time.
HOPii is also available with a 'Brewer's Mode' feature, which gives HOPii owners the ability to brew their own wort and ferment it to perfection based on their own fermentation recipe. This feature allows owners to put their wort into the wort bottle, put it into HOPii, then select Brewer's mode and input the parameters of their fermentation recipe via the display – including the fermentation temperature and when to dry hop. With their own wort and the recipe information, they can brew their personal beer favorites to perfection – along with buying beer kits to brew beers from other breweries, as well.
"Our product is the easiest-to-use home brewing device ever conceived, and you don't have to know anything about brewing," Shin said. "All you have to do is put in the pods and press a button. It's like having your own professional brewery equipment shrunk into an amazingly beautiful countertop unit. That's why it's so gratifying to receive this nomination from CES – which recognized its design and ease-of-use as a home appliance."
The prestigious CES Innovation Awards are sponsored by the Consumer Technology Association (CTA)™, the owner and producer of CES 2018, the global gathering place for all who thrive on the business of consumer technologies, and have been recognizing achievements in product design and engineering since 1976.
Entries are evaluated on their engineering, aesthetic and design qualities, intended use/function and user value, unique/novel features present and how the design and innovation of the product directly compares to other products in the marketplace. Products chosen as CES Innovation Honorees reflect innovative design and engineering in some of the most cutting-edge tech products and services coming to market. CES 2018 Innovation Honoree products are featured on CES.tech/Innovation, which lists product categories, as well as each product name, manufacturer information, description, photo and URL.
All CES nominated products will be displayed at CES 2018 from Jan. 9-12, 2018 in Las Vegas, Nevada.
For more information and to purchase the new smart home-brewing platform at a discounted price during crowdfunding, visit the HOPii Campaign Page on Indiegogo InDemand.