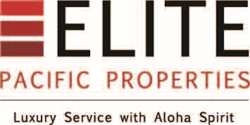 Elite agents have the highest average annual sales of any major Hawaii brokerage firm.
HONOLULU, Hawaii (PRWEB) November 09, 2017
On November 1, 2017 Elite Pacific Properties, the leader in Hawaii luxury real estate, reached $1 billion in sales for 2017. Elite has assisted home buyers and sellers across the Hawaiian Islands at a record-breaking rate, matched by only three other firms in Hawaii's real estate history.
"Our strategy and focus as a brokerage has always been to provide our talented and hard-working agents with the absolute best in technology, systems, service, and support to help them serve their clients' diverse real estate needs. I want to extend my sincere appreciation to everyone at Elite for their contributions toward reaching this milestone," said Paul Mayer, managing partner.
"Our sales are up over 50% from last year," added Margaret Reynolds, VP of Brokerage for Elite Pacific Properties. "Our formula for growth is that we provide the best possible environment for our agents to be successful. This attracts great agents to our team, and then we help them to be even better and serve more clients. I'm proud to say that Elite agents have the highest average annual sales of any major Hawaii brokerage firm."
Elite Pacific Properties expects to close $1.2 billion in sales for 2017, solidifying its status as the No. 1 volume luxury brokerage in the Hawaiian Islands. To celebrate this milestone achievement, Mayer plans to treat his team to a private workshop based on the sales philosophy outlined in Larry Kendall's book, "Ninja Selling." Mike Selvaggio, a Ninja Coach and licensed broker in Delaware, will deliver the powerful workshop focused on building strong relationships with clients and assisting them with their buying and selling goals.
About Elite Pacific Properties:
Locally owned and operated, Elite Pacific Properties was founded in 2005 by Stephen Cipres and Paul Mayer. The company has close to 200 professional agents in nine offices on Oahu, Maui, Kauai, and the Big Island, along with a 50 person support staff. As a full-service real estate firm focused on luxury residential property sales, multi-unit projects/developer sales, vacation rentals and property management, Elite is a member of Who's Who In Luxury Real Estate, an exclusive organization of the top luxury brokers in the world. The firm has also appeared on Inc. Magazine's "Inc. 5000" list for the past five years, as well as Pacific Business News' "Fastest 50" company list for the past four years. For more information, visit ElitePacific.com.