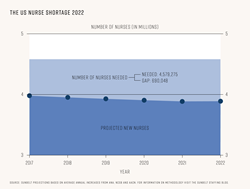 The changing demographic of our population is one of the biggest challenges to our industry over the next decade. A heavier focus on geriatric care as a specialty for nurses is surely needed."
TAMPA, Fla. (PRWEB) November 20, 2017
America will need 1.1 million new nurses by 2022 [1], but research from nursing recruitment experts Sunbelt Staffing has projected that without sweeping change, only 462,383 new nurses will be available, creating a shortage of just under 700,000.
While there are currently 3.97 million active Registered Nurses [2] in the country, by 2022 this number may have dropped to 3.89 million, due to a projected 500,000 [3] retirements from an aging workforce and an education system struggling to cope with demand.
A 2016 survey by the AACN (American Association of Colleges of Nursing [4]) revealed that nursing colleges turned away 64,065 qualified applicants from entry-level baccalaureate nursing programs. This could total 354,569 more rejections by 2022. Worryingly, the two most common primary reasons given by nursing colleges (for baccalaureate programs) for failed applications were insufficient clinical sites (37.5%) insufficient number of faculty (27.9%), suggesting funding is a huge problem. Some of the other reasons included:

Overall budget cuts – 9.7%
Insufficient classroom space – 7.5%
Insufficient enrollment capacity for specific programs: 4.6%
Approximately 65,138 entry level nurses graduated from baccalaureate programs in US colleges last year, and while graduate numbers have been on the rise (on average there are 2,455 extra registered nurse graduates every year), at that rate there will still only be 442,383 new graduates in five years' time, with the remaining 15,030 new nurses of our total made up through immigration. [5]
This nursing shortfall is in stark contrast to overall population rises, specifically a rise in people aged 65 and over. On average, this demographic cost hospitals up to three times more ($18,424) than working-age individuals ($6,125) [6] and are predicted to top the 60 million [7] mark in five years' time.
Tera Tuten from Sunbelt Staffing commented:
"The changing demographic of our population is one of the biggest challenges to our industry over the next decade. Older people are much more likely to need care from nurses, and we know from working with healthcare professionals how their role is adapting to meet these needs, a heavier focus on geriatric care as a specialty for nurses is surely needed."
While the number of new foreign nurses taking the NCLEX qualifications needed to work in the country peaked at 33,768 in 2007 [8], (with pass rates at around 50%), last year the number was only 11,569, with only 4,495 passing and able to work. New legislation by the current administration on the availability of H1-B visas [7] may make the influx of foreign nurses even lower.
For more data analysis and graphics, including analysis of huge rises in federal HRSA grants [9] given to nursing programs since 2008, visit the Sunbelt Staffing blog at blog.sunbeltstaffing.com.
For more information and comment please contact Laura.Wrightson(at)searchlaboratory(dot)com or +441132121211.
Notes for Editors
Projections made by Sunbelt Staffing using current nursing numbers from NCSBN, average graduate numbers (and average annual increases) from the AACN combined with projected retirements from the ANA and estimated annual influx of foreign nurses based on average pass rates of foreign nurses taking NCLEX examinations.
Sources
[1] American Nurses Association, Sept 2014
[2] National Council of State Boards of Nursing, A Profile of Nursing Licensure in the U.S., numbers correct as of September 207
[3] American Nursing Association, Workforce predictions
[4] Enrollments and Graduations in Baccalaureate and Graduate Programs in Nursing 2016-2017, American Association of Colleges of Nursing
[5] National Council of State Boards of Nursing - NCLEX Examination Statistics 1995-2016
[6] U.S. Center for Medicare and Medicaid Services
[7] Census Population and Demographic Estimates 2015-2060
[8] National Council of State Boards of Nursing - NCLEX Examination Statistics 1995-2016
[9] Health resources and services Administration grants to Nursing programs 2008-2016
To learn more about Sunbelt Staffing, please visit sunbeltstaffing.com.
To see Sunbelt Staffing's current job openings, please visit sunbeltstaffing.com/jobs.