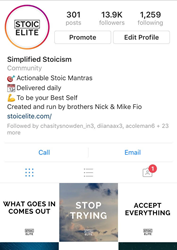 Simplified Stoicism makes life better for just about anyone.
(PRWEB) November 13, 2017
Today, StoicElite.com (Stoic Elite) officially launched, and aims to help young entrepreneurs become the best versions of themselves. The site is completely free and uses a unique form of storytelling to make the Ancient philosophy digestible and... surprisingly, fun!?
Stoic Elite was founded by two brothers from Brooklyn, Mike and Nick Fiorito. After their 3rd failed business attempt, the brothers turned to the ancient philosophy of Stoicism to keep their heads up. Every morning, they would reflect on a Stoic quote and simplify it into an actionable mantra to carry into their day.
They started sharing their mantras with friends on Instagram, creating a new category of the philosophy they donned as "Simplified Stoicism." Before they knew it, the brothers had a social media following with thousands of members.
"The Stoics created a blueprint for happiness that has lasted the test of time, but their ancient texts were sometimes difficult to understand. So we started to put things in our own words. To our surprise, our simplified approach really started to catch on. We were getting hundreds of new followers a day. People were messaging us that they loved our content because we always 'kept it real.' I think being just two guys from Brooklyn worked out to our advantage, because it allowed us to keep things simple for just about anyone," says Nick Fiorito.
Today, in an attempt to take on a much broader audience, the brothers launched StoicElite.com, an all-in-one stop for everything Stoic-related, including free guides, book reviews and interviews with modern Stoic achievers. The brothers are excited to see the already growing trend of Stoicism continue to expand.