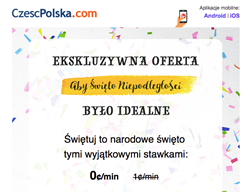 Atlanta, Georgia (PRWEB) November 10, 2017
Poland's Independence Day comes with at least 2 surprises for Polish people in the USA and other parts of the world. They can call for free on November 11, 2017, using CzescPolska.com calling service. Those new to this website, which is dedicated to POlish diaspora, need a PIN first, which can be acquired by a simple purchase of $2 Voice Credit, that never expires. Secondly, just after the Independence Day, Polish people living abroad benefit of up to 30% decrease of the plan price. Again, to benefit of the Independence Day offer, 100% discounted calls to landlines, as well as the price decrease for calls included in a plan, anyone needs a free account on CzescPolska.com.
On November 11, 2017, all Polish having a PIN with CzescPolska.com, the expat service for Polish abroad, pay absolutely nothing for their calls to landlines in Poland. Existing customers just need to choose how to call (using access numbers or KeepCalling app) and the right time, so that they could speak as long as they need to, despite time differences.
The newcomers need a PIN first, which will be received immediately after placing their first order on CzescPolska.com. The minimum order is $2 Voice Credit, which will be left in their account unused if they call landlines in Poland on November 11, instead of mobile phones there. The Voice Credit never expires and can be used anytime to call using:
-an access number in the area of residence
-KeepCalling app which costs nothing to install in seconds on one's Android or iOS device
If on November 11, they need to call mobiles instead, they also have a surprise: 30% lower rates on plans that include calling minutes to mobiles in Poland:
-Poland 500 includes 500 international minutes to call mobiles and landlines in Poland for $6.99 / month (1.4¢/min).
-Poland 1000 includes 1000 international minutes to call mobiles and landlines for $13.99 / month (1.4¢/min)
Beside Voice Credit and plans that bring the lowest calling rates, CzescPolska.com also offers Mobile Recharge and Virtual Numbers. Mobile Recharge is a service through which customers can recharge mobile phones anywhere in the world. The process is fast and secure and the credit reaches its destination instantly. The mobile operators available for recharges to Poland are T-Mobile, Plus, Tak Tak, Orange, Play, Heyah.
Virtual Numbers are monthly subscriptions through which customers pay a low monthly fee and receive unlimited calls from another country. The people calling the Virtual Number only pay the rate of local calls.
CzescPolska.com is an expat service for Polish living abroad. The website is a brand of KeepCalling, a global telecommunications company registered in 2002 in USA. Presently, KeepCalling provides its services to hundreds of thousands of consumers , with a focus on customer satisfaction. KeepCalling was listed by Inc 5000 as one of the fastest growing companies in the USA for 5 consecutive years.