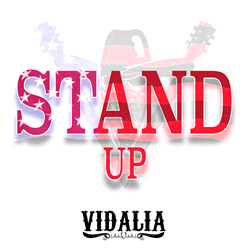 Baton Rouge, LA (PRWEB) November 10, 2017
"STAND UP!"
BRAND NEW MUSIC FROM VIDALIA WILL BENEFIT MILITARY AND VETERANS.
Country act VIDALIA releases their new single "Stand Up!" on Veteran's Day.- "WE'VE GOTTA COME TOGETHER & FIGHT, RIGHT NOW..." BATON ROUGE, LA - Nov. 10th, 2017 - VIDALIA has created a powerful new blend of music combining the ingredients of swampy waters and red dirt roads. Beginning 10 years ago as demo sessions from the pen of songwriter Ronnie Calhoun & producer/musician Matt Tortorich, 11 songs about southern life like Billboard Heatseekers Chart hits "Louisianne" & "Swamp Assassin" were created. Now 10 years later with new singer David St. Romain and the hot sounds of bandmates Jared Daigle on guitar & Karl Boudreaux on drums, Tortorich & Calhoun have strategically put together a musical masterpiece. " STANDUP" gets you on your feet. The band has stated that all proceeds from sales of the song will be donated to American Military and Veteran organizations. The hard-hitting anthem has received praise from fans and radio programmers alike, already racking up over 30,000+ views on the Facebook lyric video in the two weeks ahead of its release.
"VIDALIA has done it again with a song that shows the power in David St. Romain's vocals and the powerful talent of this group as a whole.. What a powerful statement in a song.." - James Gilmore (100.7 The Tiger)
"... a message that we all need to hear right now. It's a message that we can rally around." - Tim How (99.9 FM Fargo-Moorhead)
For more information visit http://www.VidaliaMusic.com or contact Booking@VidaliaMusic.com