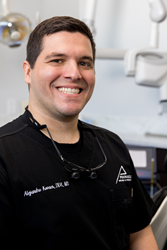 Texarkana, TX (PRWEB) November 14, 2017
Dr. Alejandro Kovacs now welcomes patients to his newest practice location in Texarkana, TX. Just as his Longview, TX practice, this new location is equipped with state-of-the-art dental technology, including a new i-Cat cone bean CT unit that offers accurate guided placement of dental implants. Dr. Kovacs and his team at Pinnacle Implants & Periodontics are pleased to provide greater levels of periodontal care to patients who now have the option of visiting one of two convenient locations in Longview and Texarkana, TX.
Pinnacle Implants & Periodontics offer many preventative, restorative, and cosmetic services, from oral cancer screenings to dental implants and full mouth reconstruction. Dental implants provide patients with an aesthetic and functional solution to single or multiple missing teeth. Implant posts are surgically placed into the jawbone and fuse to the existing bone over the next four to six months. Dental implants are restored with a highly aesthetic dental crown.
Dr. Kovacs, a dual-certified prosthodontist and periodontist in Texarkana, TX, also offers All-on-4® dental implants for patients who are missing multiple or a full-arch of missing teeth and may be suffering from extensive jawbone loss. All-on-4 uses four or more dental implants strategically placed in areas of the jaw that has the most bone volume. This creates a solid foundation onto which a prosthesis can be permanently stabilized.
Patients who do not have enough bone volume to support dental implants or implant supported dentures are commonly candidates for a bone grafting procedure. During a bone grafting procedure, a small piece of bone is added at the site to restore oral health and create a strong base for dental implants.
Those interested in a modern alternative to traditional osseous surgery can receive laser gum therapy by Dr. Kovacs. The laser gently eradicates diseased gum tissue and bacteria from around the tooth roots and helps create blood clots that encourage reattachment of the gum tissue to the tooth to promote faster healing. Due to its minimally invasive nature, laser therapy reduces patient discomfort, bleeding, and post-operative pain or sensitivity.
Full mouth reconstruction may combine a number of these services as well as orthodontics, dental crowns or bridges, and/or crown lengthening. Full mouth reconstruction consists of a series of treatments and procedures designed to restore failing teeth, jawbone, and gums back to a functional state. Treatment is customized depending on the oral health needs of each patient and may provide aesthetic improvements as well.
Patients wishing to receive treatment from an esteemed periodontist in Texarkana, TX or Longview, TX, can request an appointment with Dr. Kovacs by calling 903-758-3329.
About the Doctor
Pinnacle Implants & Periodontics offers comprehensive periodontal care for patients in Longview, TX. Dr. Alejandro Kovacs is a Diplomate of the American Board of Periodontology, the American Board of Prosthodontics as well as the International Congress of Oral Implantologists. As one of only a few dual-specialized clinician in the nation practicing as a periodontist and prosthodontist, he offers cutting-edge services including dental implants, laser gum disease treatment, gum recession care and full mouth reconstruction. To learn more about Dr. Kovacs, his team or the services they offer, visit http://www.pinnacleperio.com or call Pinnacle Implants & Periodontics at 903-758-3329 to schedule a personalized consultation.