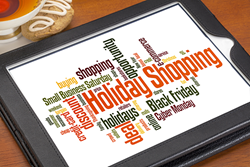 Focus on tailoring the experience to each shopper by using customer data. Those personalized messages increase the likelihood of a sale. -Listrak CEO Ross Kramer
LITITZ, Pa. (PRWEB) November 12, 2017
Listrak, an independently-owned digital marketing platform, has predicted seven key trends set to impact the North American consumer market, retailers and brands this holiday season.
"Many retailers have already started to ramp up their email deployment schedules, which is a key tactic to making the all-important Q4 year-end revenue goals," said Listrak CEO Ross Kramer. "However, it's important to remember that just sending more emails alone isn't a strategy. Consumers are bombarded with email messages this time of year, so you really need to consider when and what to send."
Listrak saw 2016 holiday email volume increase 38.5% over 2015, and is expecting another double digit increase this year. The company reviewed the sending patterns and online traffic for more than 1,000 retailers during the 2016 holiday season, and has the following predictions for 2017:
High Revenue Impact: Overall, email has a high impact on holiday revenue. Sending as many as four additional emails per month provides a huge revenue boost, marking a return of $59.26 for every dollar spent.
Give Thanks for Dark Stores: Many retailers, including Costco, H&M, Ikea, Marshalls and HomeGoods have touted their remaining closed or operating on limited hours Thanksgiving Day, with some also remaining closed on Black Friday. Dark stores may mean increased site traffic, so capture it by sending multiple emails on those days.
After Dinner Deployment: Adding an evening email to the deployment schedule will take advantage of site traffic spikes after dinner.
All Day Long: Sending multiple emails at various times on Black Friday will engage shoppers who shop all day long.
Monday, Cyber Monday: Email volume drives site traffic on Cyber Monday. Listrak noted a 42.4% increase over 2015 volumes, and recommends deploying two or even three emails on Cyber Monday as shoppers are looking for deals throughout the day.
We're Here All Week: Keep campaigns rolling throughout Cyber Weekend, but don't ignore the following week. Shoppers welcome emails this time of year, and as many as 27% start buying the first two weeks of December.
The Message and the Means: Although email volume is expected to rise this holiday season, that doesn't mean that every shopper will receive the same message. Expect marketers to send more sophisticated campaigns, including segmented messages, product recommendations and AI-driven predictive content. Also expect to see more integrated campaigns as marketers implement SMS, display and social marketing into their holiday strategies. "Focus on tailoring the experience to each shopper," adds Kramer. "A great way to do that is by using customer data. Those personalized messages increase the likelihood of a sale."
For more information, visit our Holiday Insights Center or download our holiday infographic.
About Listrak
Listrak's customer-centric data approach helps digital marketers cultivate deeper relationships with consumers through personalized, multichannel strategies that drive revenue, engagement and growth. Listrak helps reach those customers at the right time and the right place, regardless of the source, channel or device. Listrak has decades of digital marketing knowledge and works with leading brands. For more information, visit http://www.listrak.com.