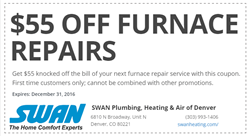 One of the Most Trusted Furnace Repair Companies in Denver, CO
DENVER (PRWEB) November 22, 2017
SWAN Plumbing, Heating & Air of Denver furnace repair and replacement contractors have had a strong presence in the community for more than three decades. Whether a Denver resident needs to repair, replace or maintain a furnace, the local company is currently offering a $55 off coupon for any type of heating service performed during the 2017 season.
People who want to receive their $55 off coupons can visit the official SWAN Plumbing, Heating & Air of Denver website where they can fill out and submit a simple form. Melissa, one of the members of the family-owned SWAN Plumbing, Heating & Air of Denver company, mentioned that the owners are offering a special deal because they want their customers to save money on maintaining their heating systems. She said that the company offers a wide array of options for using the valuable coupon.
Denver Furnace Repair Services
A Denver resident in need of furnace repair service should contract with a licensed heating contractor. At SWAN Plumbing, Heating & Air of Denver, trained technicians are prompt, courteous and knowledgeable. They know how to repair every make and model. Professional HVAC technicians at SWAN Plumbing, Heating & Air of Denver undergo intensive background checks.
Furthermore, all of the technicians are tested for drugs before they are hired. When a customer places a service call, the company dispatches a technician wearing an official uniform. The technician drives to the residence in a company vehicle advertising the company's name. Customers do not need to worry about permitting the trustworthy contractors into their homes.
Denver Plumbing Services
People can also take advantage of the plumbing services provided by SWAN Plumbing, Heating & Air of Denver. Whether a homeowner requires pipe repair services, a replacement sink or fixing a leak, trained plumbers are equipped to take care of all major plumbing requirements. Plus, the company's trucks are fully equipped with a wide array of parts and equipment. A technician does not normally need to leave the residence to pick up needed parts. More than 98 percent of the jobs are performed immediately.
Denver Sewer Repair Services
SWAN Plumbing, Heating & Air of Denver also features technicians and technologically advanced parts capable of handling the majority of sewer problems. Homeowners can typically expect replacements of sewer lines within the same day of the initial service call. Backed up sewers are promptly serviced via various remedies. In addition, sewers are thoroughly cleaned via hydro-jetting or water jetting services utilizing high pressure water. The pressure is able to cut through debris located in the sewer pipe. The force of the water is so strong that it literally cuts through heavy materials including tree roots.
Denver Drain Cleaning Services
Denver residents in need of drain cleaning services can call SWAN Plumbing, Heating & Air of Denver for emergencies or general maintenance purposes. A clogged drain is unsanitary and stressful. People do not want to wash their hands in a basin plagued by a clogged drain because the dirty water keeps backing up into the sink. Additionally, professionals do not recommend the use of potentially harmful drain cleaning chemicals.
A trained technician uses a special drain snake to remove clogs located in the main sewer line. A $68 drain cleaning coupon is applicable provided that the customer obtains the coupon by visiting the official website. A customer with a clogged drain caused by excessive hair, grease or even toys finds instant relief when working with a professional at SWAN Plumbing, Heating & Air of Denver.
Get the $55 Off Furnace Repair Coupon
Consumers can find out additional information regarding the $55 off furnace repair coupon by visiting the official website of SWAN Plumbing, Heating & Air of Denver. In order to obtain the coupon, visitors can click the link found near the bottom of the home page. In addition, interested homeowners can obtain more details about SWAN Plumbing, Heating & Air of Denver by reading published online reviews and press releases. Furthermore, prospective customers are cordially invited to view the informative video. At SWAN Plumbing, Heating & Air of Denver, customers are always first. New customers can benefit from the professional services and special coupons.