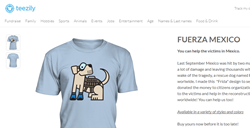 "At Transpay, we're investing heavily in technology that simplifies global payouts, and with coverage of over 95% of global bank accounts today, we're expanding our direct-to-bank network by adding new countries, banks, and cash payout locations," says Peter Shore, General Manager, Transpay
NEW YORK (PRWEB) November 16, 2017
Transpay, a global cross-border mass payout platform, announced today that it has been selected by Teezily, an e-commerce platform for custom T-shirts and apparel, to handle payouts to its international sellers. Through Transpay, Teezily sellers now have the ability to receive their commission payouts directly into their local bank accounts.
Teezily enables global designers, creators, and entrepreneurs to easily launch innovative apparel campaigns to raise money for natural disaster relief, social causes, charities, and supplemental income. Users design, market, and sell custom apparel through the company's free e-commerce marketplace, while Teezily handles manufacturing, printing, and shipping.
As the platform continues to expand into new markets, Teezily is focused on improving the payment experience for thousands of international sellers. "The ability to receive payments directly into a local currency bank account was a request we heard frequently from our seller community," says Charles Dilasser, CEO, Teezily. "Transpay enabled us to create a seamless payout experience for sellers who wanted their funds readily available for use from their bank account and we're already seeing more sellers choose this option."
Transpay's cross-border payments platform supports more than 60 currencies, and through its direct-to-bank network, is able to deliver payouts directly to a seller's bank account.
"Sending payments should be a quick and simple experience, regardless of where in the world the funds are going. At Transpay, we leverage our global network of local bank partnerships and technology to reduce the complexities of international payments for businesses," says Peter Shore, General Manager, Transpay. "We are thrilled to partner with Teezily and look forward to supporting its continued expansion."
Transpay's platform combines a local bank network with risk management and FX capabilities to serve leading e-commerce marketplaces, affiliate marketing platforms and payment service providers.
About Transpay
Transpay provides businesses of all sizes with a scalable, secure, and fully compliant cross-border mass payout solution, making it easy to send funds directly to the local bank accounts of vendors, business partners, freelancers or others in over 100+ countries. To learn more, visit http://www.transpay.com
About Teezily
Teezily enables 20,000 merchants all over the world to find products and create their online stores. We provide merchants with a complete back office to manage their store, choose and customize new products and promote them. Teezily's marketplace is available in 11 languages and integrates global online payment solutions such as PayPal, Sofort, Giropay or Ideal. Teezily has a great global community of 110,000 members working with the e-commerce platform. Thanks to Teezily, many merchants made their dream of wealth come true. For further information, visit http://www.teezily.com
Contacts:
Transpay
Adriana Villasenor
Director Public Relations
Adriana.Villasenor(at)wyndpay(dot)global
Teezily
Cindy Deguingand
Head of Marketing BtoB
cindy.deguingand(at)teezily(dot)com