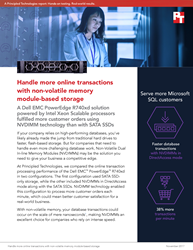 [H]andle more transactions without opting to replace SATA SSDs with a large number of NVMe SSDs
DURHAM, N.C. (PRWEB) November 10, 2017
Businesses that need to serve even more customers with their Dell EMC PowerEdge servers may consider using non-volatile memory to speed up transactions.
Principled Technologies (PT) investigated how non-volatile dual in-line memory modules (NVDIMMs) could boost the already strong online transaction processing performance of Dell EMC PowerEdge R740xd servers. PT found that a server with SATA SSDs and NVDIMMs processed 38 percent more transactions per minute compared to a server using SATA SSDs alone. According to the report, the results "could mean better customer satisfaction for a real-world business."
To learn more about how NVDIMMs could improve online capabilities, read the full report at facts.pt/zNbAUU.
About Principled Technologies, Inc.
Principled Technologies, Inc. is the leading provider of technology marketing and learning & development services.
Principled Technologies, Inc. is located in Durham, North Carolina, USA. For more information, please visit PrincipledTechnologies.com.
Chloe Rockow Madsen
Principled Technologies, Inc.
1007 Slater Road, Suite #300
Durham, NC 27703
press(at)principledtechnologies(dot)com