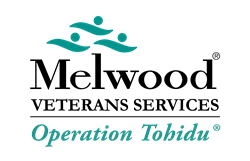 Sadly, many female veterans live with post-traumatic stress or the effects of sexual assault. According to the Veterans Administration, one out of four female veterans who use the VA health care system report they've experienced military sexual trauma.
UPPER MARLBORO, Md. (PRWEB) November 11, 2017
As a growing number of organizations and advocacy groups this month peel back layers of pervasive sexual assaults and how to address them, veterans suffering from the results of military sexual trauma are already learning how to heal through Melwood Veterans Services (MVS).
Operation Tohidu® for Women – a program under the MVS umbrella – helps female veterans and active-duty military cope with the invisible wounds of sexual trauma, post-traumatic stress (PTSd), and traumatic brain injury. Tohidu, a Cherokee word meaning peace of mind, body, and spirit, lives out its name's promise through retreats in the Maryland countryside. The experiential rehabilitation program focuses on confidence building, outdoor activities, and group discussion.
Operation Tohidu® for Women retreats are held in a relaxed, positive environment using proven techniques for the self-management of symptoms, stressors, and responses. There are special retreats specifically for female veterans struggling with military sexual trauma, as well as a couples retreat.
"Sadly, many female veterans live with post-traumatic stress or the effects of sexual assault. According to the Veterans Administration, one out of four female veterans who use the VA health care system report they've experienced military sexual trauma," says retired Army Brigadier General David Blackledge.
General Blackledge served 37 years in the military and is Melwood's new Executive Vice President of Veterans Services. Wounded twice during successive combat tours in Iraq, he is open about his personal experience with PTSd and traumatic brain injury.
"The issues that many veterans face are extraordinarily complex," states General Blackledge. "I am fortunate to be in a position to create programs and services that may help my fellow veterans cope with stressors, gain employment, or simply reunite with their families and friends."
Today there are more than two million female veterans in the United States. A March 2017 Veterans Administration report on traumatic stress finds that one out of five female veterans who served in Iraq and Afghanistan has been diagnosed with PTS(d). At Melwood Veterans Services, both male and female veterans along with their families and caretakers can find programs, resources, and a community geared toward helping and healing. Hundreds of thousands of veterans are dealing with invisible wounds – their path is far from easy and many need support offered at Melwood.
# # #
MEDIA ADVISORY:
The media is invited to an Operation Tohidu® Retreat on Friday, December 8 at the Melwood Recreation Center in Nanjemoy, Maryland. Operation Tohidu® retreats are facilitated "By Veterans, For Veterans". The facilitators have personal experience with service-related trauma, including military sexual trauma.
To request an interview with General David Blackledge or learn more about the nonprofit organization Melwood, which advocates for and empowers people of differing abilities to transform their lives, please contact Chantay P. Moye at cmoye(at)melwood(dot)org or 240-492-1971.
David Blackledge BIO:
General Blackledge is a graduate of the United States Military Academy at West Point and earned his MBA from the University of Wisconsin. He has a long and distinguished Army career both in the field and at the Pentagon. His military awards include four Legions of Merit, given for exceptionally meritorious conduct in the performance of outstanding service and achievement; five Bronze Star medals, awarded for heroic service or meritorious achievement in a combat zone; and two Purple Heart medals, awarded for wounds sustained in combat. Since retirement, General Blackledge has devoted himself to education, leadership, and projects focused on wounded military veterans.
About Melwood:
Melwood is an AbilityOne non-profit organization, and one of the largest employers of people with differing abilities in the Northeast U.S., with a highly competitive and inclusive workforce. Melwood provides a range of services to federal, state and local governments, and the private sector. Using an innovative and effective social entrepreneurial model, Melwood offers job placement, job training, life skills for independence, and support services to more than 2,150 people each year in the Washington, DC metropolitan area, Maryland, and Virginia. Melwood also provides recreation opportunities through seasonal inclusive camp programs for children and adults with and without differing abilities. Melwood employs more than 1,600 workers, including nearly 900 persons with a differing ability. Since 1963, the 501(3)(c) organization has envisioned a world in which people with differing abilities are fully included by advocating for and empowering them to transform their own lives through unique opportunities to work and play in the community. For more information visit http://www.Melwood.org.