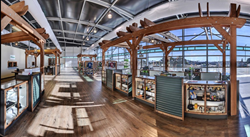 Despite being a recreational dispensary, we have a sizable number of elderly and disabled customers, including many veterans, who can benefit from the convenience of drive-thru service.
LAS VEGAS (PRWEB) November 11, 2017
This Veteran's Day Weekend, buying cannabis will become easier and more convenient for Las Vegas consumers. As of Nov. 10, NuWu Cannabis Marketplace (http://www.nuwucannabis.com), a Paiute Tribe-Owned Las Vegas cannabis dispensary, will begin offering the nation's first drive-thru adult-use recreational cannabis service.
Consumers can now pull up to a drive-thru window, where they can buy a wide variety of cannabis products, including flower, topicals, concentrates, vapes, and edibles.
The sprawling NuWu facility—with 16,000 square feet of retail space (including 170 feet of display counters) is the largest adult-use retailer of recreational marijuana in the world—already hosts several hundred customers each day.
Although NuWu offers ample parking, cannabis enthusiasts will now be able to take better advantage of Las Vegas' car-friendly layout, saving them time and increasing efficiency of the age and ID verification process mandated by state law.
Drive-Thru Service Offers Convenience for the Elderly, Disabled, Veterans, and the Public:
NuWu's drive-thru service will make it more convenient to purchase cannabis products not only for local residents and visitors, but for older patients and the disabled who may have mobility issues.
"Despite being a recreational dispensary, we have a sizable number of elderly and disabled customers, including many veterans, who use cannabis therapeutically or for boosting their overall health and wellness," said Benny Tso, chairman Las Vegas Paiute Tribe. "A major reason we decided to offer drive-thru service was to make it more convenient for individuals who may not be able to make it into our store easily."
Customers Can Order Online Before Pickup:
Customers can place orders in advance thru NuWu's secure online ordering system (order.nuwucannabis.com), where they have access to NuWu's expansive menu. For customers who don't want order online, they may order on-site from a limited menu available at the drive-thru window.
In preparation for this landmark, NuWu spokespersons stress that drivers are expected to comply with Nevada's strict DUI laws, which prohibit driving under the influence of marijuana. Recreational marijuana became legal in Nevada on July 1, 2017.
Fast Facts About NuWu Cannabis Marketplace:
In addition to being the world's largest recreational dispensary, NuWu is also Las Vegas' newest. Guests to the massive store are greeted by water walls, exposed wooden posts and beams, and state-of-the-art sales terminals that lend the dispensary an upscale yet friendly feel.
Not only does NuWu offer cannabis products designed for human consumption, they offer a selection of cannabinoid-infused products for dogs intended to help with problems such as excessive barking or itching.
NuWu is a venture of the Paiute Tribe, a small Nevada-based Native American tribe boasting just 56 members, some 15 to 20 of whom are employees at the dispensary. "It's an economic driver for our tribe, to help our people," says Chairman Tso. The name "NuWu" means "the people" in the Paiute language.
Store Location and Contact Information:
NuWu Cannabis Marketplace is located on Paiute Circle, along North Main Street, just north of East Washington Avenue:
1235 Paiute Circle
Las Vegas, NV 89106
Hours: 9am - 2am daily
(702) 844-2707
Website: http://www.nuwucannabis.com
Contact: http://www.nuwucannabis.com/contact
Photo Gallery: http://www.nuwucannabis.com/gallery/
About NuWu Cannabis Marketplace:
The NuWu Cannabis Marketplace is the largest recreational marijuana marketplace worldwide. The building spans nearly 16,000 square feet with 170 feet of display counters dedicated to recreational marijuana. NuWu Cannabis Marketplace has the largest selection of products of any Las Vegas Dispensary. We buy in bulk, so you pay less.