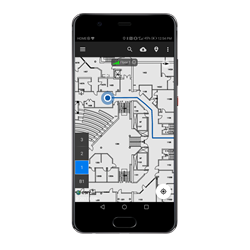 GREENBELT, Md. (PRWEB) November 16, 2017
TRX Systems, developer of NEON® Indoor Location Solutions, has been awarded a multi-year research contract from the U.S. Department of Transportation to deliver accessible navigation and routing within complex urban environments and transportation hubs. Six Federal Highway Administration (FHWA) and Federal Transit Administration (FTA) awardees aim to advance accessible transportation through three key technological areas:

Wayfinding and Navigation
Pre-Trip and Concierge Services
Safe Intersection Crossing
TRX Systems was awarded a contract to support wayfinding and navigation with the objective of delivering real-time location, en-route assistance, and situational awareness. TRX Systems' Smart Wayfinding and Navigation service will provide travelers with real-time location, en-route assistance and situational awareness indoors and out so they can safely navigate while traveling independently.
The Accessible Transportation Technologies Research Initiative (ATTRI) leads efforts to research and implement solutions that will help people effectively plan and execute their travel, particularly those with disabilities. NEON will assist ATTRI with tools for path planning and routing and support applications that can deliver wayfinding for travelers with diverse needs.
"TRX is leveraging global crowdsourced map data and optional, high accuracy ultra-wideband (UWB) ranging to support more effective urban navigation and routing, including within complex indoor and underground transportation hubs," said Carol Politi, President and CEO of TRX Systems. "We look forward to engaging with a broad range of application developers to enhance independent travel for all."
About TRX Systems
TRX Systems is the developer of the NEON® Indoor Location Solution, delivering location and mapping indoors, underground and in dense urban areas where GPS is not available or is unreliable. NEON delivers ubiquitous, low-cost, 3D indoor location through the use of advanced sensor fusion, ranging, and patented dynamic mapping algorithms. NEON patented location technology provides the foundation for a number of commercial applications including NEON Personnel Tracker, NEON Signal Mapper and NEON Squad Tracker.
TRX Systems is the recipient of the Silver Edison Award for innovation in the Navigation and Robotics category, the Tibbetts Award given by the U.S. Small Business Administration for innovation and economic impact of research and development, the TEDCO ICE Award for Corporate Excellence and the Innovator Award from the Chesapeake Regional Tech Counsel (CRTC). TRX's indoor location software development has been supported by the National Science Foundation, the Defense Advanced Research Projects Agency (DARPA), the U.S. Army, and the Department of Homeland Security.
Application partners interested in collaborating with TRX on this program should contact TRX via http://www.trxsystems.com/contact-us.