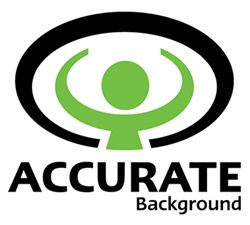 "Being recognized on Deloitte's Technology Fast 500™ consecutively is a tremendous honor."
IRVINE, Calif. (PRWEB) November 13, 2017
Accurate Background announced it ranked 381 on Deloitte's Technology Fast 500™, a ranking of the 500 fastest growing technology, media, telecommunications, life sciences and energy tech companies in North America. Taking revenue growth from 2013 to 2016 into consideration, Accurate Background grew 211 percent. This makes for the fourth consecutive year Deloitte has recognized the organization's growth, as well as the seventh time overall.
Accurate Background has seen considerable growth within the last year, resulting in an expansion at its headquarters in Irvine, California. The company also previously upgraded and expanded their North Carolina facility in late 2016 to support its increase in operational staff on the East Coast. The company growth in recent years has been supported by an industry unique approach of keeping client satisfaction, compliance and service as their highest priorities. Accurate Background also strives to remain as an industry leader in turnaround times, product enhancements, and overall smooth experiences for both clients and candidates.
"Being recognized on Deloitte's Technology Fast 500™ consecutively is a tremendous honor," stated Accurate Background Chief Technology Officer, Connie Suoo. "We understand our dedication to our clients extends beyond providing a quality background check. Creating a client-focused approach continues to set us apart from others in our industry and contributes to our ongoing success."
This marks the 22nd straight year software had led in rankings, comprising 59 percent of the list. Accurate Background previously ranked 308 as a Technology Fast 500™ award winner in 2016 and is on pace to rank on the prestigious list again in 2018.
About Accurate Background
Accurate Background is a leading provider of automated workforce screening. U.S. and international clients across all industries, from emerging businesses to Fortune 500 companies, rely on their compliant solutions. Accurate Background is accredited by the National Association of Professional Background Screeners and has been recognized by Inc. 5000, and Deloitte Technology Fast 500, and the Workforce Hotlist. Learn more at accuratebackground.com.
About Deloitte's 2017 Technology Fast 500™
Deloitte's Technology Fast 500 provides a ranking of the fastest growing technology, media, telecommunications, life sciences and energy tech companies — both public and private — in North America. Technology Fast 500 award winners are selected based on percentage fiscal year revenue growth from 2013 to 2016.
In order to be eligible for Technology Fast 500 recognition, companies must own proprietary intellectual property or technology that is sold to customers in products that contribute to a majority of the company's operating revenues. Companies must have base-year operating revenues of at least $50,000 USD, and current-year operating revenues of at least $5 million USD. Additionally, companies must be in business for a minimum of four years and be headquartered within North America.