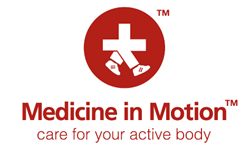 Most insurance plans run on a calendar year, so now is the time to use-them or lose-them. You've worked hard for your health care benefits – make sure you take advantage of them.
AUSTIN, Texas (PRWEB) November 15, 2017
The Austin-area sports medicine team at Medicine in Motion is reminding patients that as the New Year approaches, it's time to pull out the health care plan paperwork to review coverage and assess how many unused insurance benefits remains. Whether it was a self-purchased plan or sponsored by an employer, most people can benefit by taking a few minutes for an insurance plan evaluation.
"With the holidays upon us, it's easy to forget to take advantage of your annual benefits, but patients can save hundreds of dollars by using their health insurance benefits before the end of the year," said Dr. Martha Pyron, owner of Medicine in Motion. "Most insurance plans run on a calendar year, so now is the time to use-them or lose-them. You've worked hard for your health care benefits – make sure you take advantage of them."
Here is a look at eight points to remember for saving money in conjunction with health insurance:
1. Annual Benefits – Any benefits with a calendar limit should be taken advantage of before the end of the year. These may include certain types of checkups and preventative health services.
2. Disappearing Benefits – Carefully read through the insurance information provided by the employer and/or insurance company after enrolling to see if any benefits are changing with the New Year. If some are being reduced or outright eliminated, get the most of the current coverage before treatment costs go up.
3. Health Savings Accounts (HSA) – An HSA is a medical savings account available to those who are enrolled in a high-deductible health plan. Funds contributed to an HSA aren't subject to income tax at the time of deposit. A contributor can maximize tax savings by fully funding their HSA account. Unused HSA funds will rollover and continue to grow each year.
4. Flexible Spending Accounts (FSA) – This is an account established through employers for employees to place some of their pre-tax dollars into. Unlike HSA funds, unspent FSA money will NOT rollover, so it's important to utilize those contributions before they're gone. FSA dollars can be used for annual physicals, as copayments for doctor visits, prescription refills, eyes exams and much more.
5. Deductibles - The deductible is the amount of money that a patient must pay their health provider out of pocket before the insurance company will pay for any services. This fee varies from one plan to another and could be higher if a patient chooses an out-of-network doctor. Deductibles also reset when plans roll over with a new year, so those who have met their deductibles for the current year should attempt to continue or finish treatment before the fees return.
6. Premiums - If a patient is paying his or her health insurance premiums every month, they should be using their benefits. Even if there are no signs of problems, patients should always have their annual checkups and exams as a measure of prevention and to detect any early signs of health issues that cannot be detected without a professional healthcare provider.
7. Health Problems Can Worsen - By delaying treatment or even a checkup, patients are risking more extensive and expensive treatment in the future. What may be a simple ailment now could turn into a much bigger and costlier health issue later.
8. Long Term Care – Insured individuals may want to confer with their employer or health insurance company to see if they offer any wellness incentives or gym membership discounts. Taking advantage of these type of health initiatives can save cash in the short term, but they can also save money in the long term by improving physical fitness and, therefore, keeping medical and insurance costs down.
Medicine in Motion (MIM) specializes in providing top quality sports medicine in Austin, Texas, for athletic individuals of all ages and levels. The staff at MIM believes active bodies are healthy bodies, therefore it is the office's goal to keep patients energetic and fit. To that end, MIM provides treatment of injuries and illnesses, including the use of physical rehabilitation; promotes healthy living with personal training and nutrition coaching; and offers comprehensive sports medicine evaluations to optimize health, activity level and sports performance. For more information or for questions regarding sports medicine in Austin, contact Medicine in Motion at 512-257-2500 or visit the website at http://www.medinmotion.com.