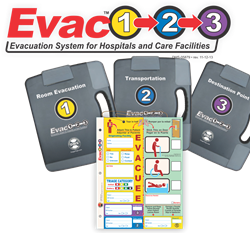 "We are pleased to be first to market with a command tool-set that allows NHICS facilities to be fully prepared."
CAHF Convention and Expo, PALM SPRINGS , Calif. (PRWEB) November 12, 2017
Disaster Management Systems (DMS) announced today they are offering a line of NHICS solution products that provide nursing homes and long-term care facilities all-hazard tools to satisfy CMS compliance and NHICS command objectives.
The flagship offering in the new line is a patient evacuation system called EVAC123.
Developed in conjunction with major health facilities nationwide, EVAC123 and has become recognized as the optimal tool to evacuate and track patients in an emergency setting and provides CMS compliance under final rule E-0018. EVAC123's simplicity-of design and ease of use allows staff to effectively prioritize patients for evacuation and document their movement throughout the entire process including transportation and confirmation of arrival. The system's unique design utilizes a highly visible all-weather evacuation tag that accepts labels containing the patient's medical record number.
"Confirmation that a patient has reached a destination is paramount to ensure no one is missing" said Dennis Ortiz, VP of Disaster Management Systems. "EVAC123's ability to use a patient's name and medical record number virtually eliminates the common tracking errors caused by number / name mismatches." EVAC123 is fully compatible with any electronic tracking program but does not rely on them. "EVAC123 works when the power doesn't" concludes Ortiz.
An EVAC123 tabletop training kit that consists of a large roll-out vinyl map of a small nursing facility and patients cards allows staff members to practice their evacuation plans in a fun and engaging way while at the same time meet the CMS compliance for tabletop training contained in final rule E-0039.
To ensure an organized response to any type of incident DMS now offers NHICS command boards and vest based of the new 2017 NHICS standard. Command boards are available in both framed dry-erase wall-mount versions for mid-to-large facilities and a portable portfolio version for smaller facilities or when mobility is important. Both versions come with a binder containing JAS (Job Action Sheets) for all IMT (Incident Management Team) positions as well as an IAP (Incident Action Plan) quick start to allow the Incident Commander to effectively manage the incident. To complement the command boards DMS also offers reflective IMT position vests for all 10 of the NHICS Incident Command positions.
"Establishing a command structure is critical to ensuring an organized response to any incident" said Jeff Lengyel, Product Manager at DMS. "We are pleased to be first to market with a command tool-set that allows NHICS facilities to be fully prepared."
For more information about the NHICS / CMS preparedness products visit Disaster Management System's website at TriageTags.com or at their CAHF booth # 829 on November 13th and 14th.
About Disaster Management Systems
Founded in 1996 in Pomona California by two retired Fire Captains, Disaster Management Systems is recognized as the industry leader in providing NIMS-based ICS and HICS response solutions.