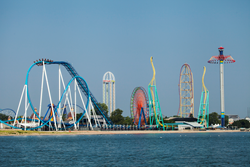 The prestigious TEA Thea Award is considered one of the industry's greatest honors.
BURBANK, Calif. (PRWEB) November 14, 2017
The Themed Entertainment Association (TEA) announced the new slate of TEA Thea Awards recipients – to be formally awarded April 7, 2018 at the 24th annual Thea Awards Gala in Anaheim, presented by Chimelong Group.
The themed entertainment industry touches all genres of visitor attractions around the world - including theme parks, museums, visitor centers and spectaculars - and the TEA Thea Awards reflect this. The industry has exploded globally in the last 15 years and is significant to international business in terms of travel, tourism, land development, hospitality, retail, entertainment, education, IP and branding, design, architecture and technology. The prestigious TEA Thea Award is considered one of the industry's greatest honors. Every year, this global community comes together for the annual Thea Awards Gala, an elegant, black-tie affair.
Tickets will go on sale around the end of 2017. Visit http://www.teaconnect.org for more information, including descriptions of all Thea Awards recipients. Hashtag: #TEAtheas
"We congratulate the new Thea Awards recipients and invite our international community to join us April 7, 2018 for the annual TEA Thea Awards Gala, where we honor and celebrate our industry's finest achievements and greatest contributors," said TEA International Board President David Willrich of DJ Willrich Ltd.
The 24th Annual Thea Awards are dedicated to the late Marty Sklar - Disney Legend and recipient of Thea lifetime achievement honors (1995) who remained closely involved with TEA and the Thea Awards until his passing.
-- 24th Annual TEA Thea Awards Recipients --
The Buzz Price Thea Award – Recognizing a Lifetime of Distinguished Achievements

Phil Hettema, President and Creative Executive, The Hettema Group - With a distinguished 40-year career, Phil is known for uniquely compelling guest experiences such as One World Observatory (New York); the High Roller Observation Wheel (Las Vegas) and Beyond All Boundaries at the National World War II Museum (New Orleans). Prior to forming his own company in 2002, he was SVP Attraction Development for Universal Studios Theme Parks Worldwide for 14 years, responsible for creative development of all major attractions and shows.
Thea Classic

Cedar Point, Sandusky, OH, USA - Cedar Point is a unique, American amusement park and resort paradise. Its mix of great rides and attractions, live shows, special events, food and hospitality, its famous beach and boardwalk and its history make it a place like no other. From simple beginnings in 1870, Cedar Point grew to be a complete, world-class entertainment destination, a mecca for thrill-seekers and families alike.
Thea Awards for Outstanding Achievement - recipient name, location, category

"Sleep No More Shanghai," McKinnon Hotel, Shanghai, China (Connected Immersion Theater)
Ghost Town Alive! Knott's Berry Farm, Buena Park, CA, USA (Connected Immersion Theater, Limited Budget)
Pandora – The World of Avatar, Walt Disney World Resort, Orlando, USA (Theme Park Area Development)
Avatar Flight of Passage, Disney's Animal Kingdom, Walt Disney World, Orlando, USA (Attraction)
Derren Brown's Ghost Train: Rise of the Demon, Thorpe Park Resort, England (Immersive Attraction)
Jameson Distillery Bow St., Dublin, Ireland (Brand Experience)
Chimelong Ocean Kingdom's Journey of Lights Parade, Zhuhai City, China (Live Show)
Frozen Ever After, Norway Pavilion, Epcot, Walt Disney World Resort, Orlando, USA (Attraction Reimagining)
Symbolica: The Palace of Fantasy, de Efteling, Netherlands (Attraction)
Citadella Visitors Centre, Gozo Island, Malta (Heritage Visitor Center, Limited Budget)
Les Carrières de Lumières, Les Baux de Provence, France (Immersive Event)
"Aura," Basilica Notre Dame, Montreal, Canada (Immersive Event, Limited Budget)
Guardians of the Galaxy – Mission: BREAKOUT! Disney California Adventure, Disneyland Resort, Anaheim, CA, USA (Attraction Reimagining)
DreamWorks Animation Zone, MOTIONGATE™ Dubai, UAE (Theme Park Land)
Smithsonian National Museum of African American History and Culture, Washington DC, USA (Museum)
Rainis' Museum Tadenava, Riga, Latvia (Museum Rehab on a Limited Budget)
Gallipoli: The Scale of Our War, Te Papa Museum, Wellington, NZ (Museum Exhibit, Limited Budget)
3D Live – Holographic 3D LED Display (Innovative Technology)
TEA Peter Chernack Distinguished Service Award (recognizing exceptional volunteer service to the Association)

Joe Fox, Birket Engineering
Annika Oetken, Freelance Project Manager
ABOUT TEA
ABOUT the TEA Thea Awards
OFFICIAL VIDEO ARCHIVE: TEA Thea Awards