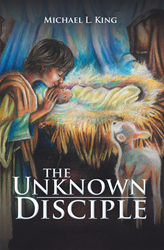 HUNTINGTON BEACH, Calif. (PRWEB) November 14, 2017
Oftentimes, Christians wonder if they are worthy of inheriting the kingdom of God or to act as disciples of Christ. Michael L. King, author of "The Unknown Disciple," is here to tell Christians that God can use many different people to further his kingdom, regardless of social or economic status.
King's book is a historical fiction based on events from the life of Jesus Christ as recorded in the four gospels of the Bible; a large majority of the events are taken from the book of Luke.
In King's book, a young shepherd witnesses the birth of Jesus, and follows him through his birth, his ministry, his crucifixion, and his resurrection.
The young shepherd grows up and becomes more Christlike by following Christ himself and living his teachings.
"The purpose of this book is to show people that they don't have to hold a certain title, make a certain amount of money or be popular to be a disciple of Jesus," said King.
"Becoming true disciples of the Savior requires that we come to know him, love him, recognize his love for us, then believe he will give us the strength and power to live what he taught. That's how we spread his gospel through the way that we live our lives."
"The Unknown Disciple" will inspire readers and call them to live by Jesus' teachings, as outlined in the four gospels.
"The Unknown Disciple"
By Michael L. King
ISBN: 978-1973601715 (softcover); 978-1973601722 (hardcover); 978-1973601708 (electronic)
Available at the WestBow Press Online Bookstore, Amazon and Barnes & Noble
About the author
Michael L. King grew up in a Christian home, but came to more fully know the Savior when, as a youth, he accidentally caused the death of one of his best friends. He has spent his whole life teaching and testifying of the Savior's atoning grace in every setting from small classrooms, to large audiences in conferences, workshops, and symposiums, yet remains to most of the world as an unknown disciple.
###
Review Copies & Interview Requests:
LAVIDGE – Phoenix
Kalin Thomas
480-306-7065
kthomas(at)lavidge(dot)com
General Inquiries:
LAVIDGE – Phoenix
Bryan Beach
480-306-6554
bbeach(at)lavidge(dot)com