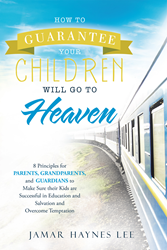 COLUMBUS, Ohio (PRWEB) November 14, 2017
88% of children who grow up in evangelical homes leave the church by the age of eighteen, never to return.
Through his new book, "How to Guarantee Your CHILDREN Go to Heaven," the Rev. Jamar Haynes Lee is helping pastors and parents turn this around.
In the book, Haynes Lee explains how parents and grandparents can teach children to grow up desiring a daily relationship with Jesus, as opposed to treating him like a Sunday morning obligation.
"God led me to write this book to reveal that he is requiring parents to train their children this way for the first time in history," Haynes Lee said. "With a book like mine, families no longer have to suffer from a lack of this new knowledge."
Haynes Lee believes it is imperative for parents and guardians to teach their children these crucial life lessons. "This is the first generation that has no excuse not to know how to parent their kids. If we don't know in this information age, it is it is our fault because we choose not to understand."
One Amazon reviewer describes the book as "easy to read, practical and heartfelt. Truly a great tool that every parent and grandparent should have."
"How to Guarantee Your CHILDREN Will Go to Heaven" will call parents to lead their children to Christ with love and patience.
"How to Guarantee Your CHILDREN Will Go to Heaven"
By the Rev. Jamar Haynes Lee
ISBN: 978-1512789089 (softcover); 978-1512789096 (hardcover); 978-1512789072 (electronic)
Available at the WestBow Press Online Bookstore, Amazon and Barnes & Noble
About the author
The Rev. Jamar Haynes Lee has been in ministry for over 20 years. Jamar and his wife Cassandra are the founders of Family & Marriage Enrichment and have a heart to help families flourish. Together they also head the Youth Ministry at Glory To God Ministries in Canal Winchester, Ohio. To learn more about Haynes Lee and Glory To God Ministries, please visit http://jamarhayneslee.com.
###
Review Copies & Interview Requests:
LAVIDGE – Phoenix
Kalin Thomas
480-648-7560
kthomas(at)lavidge(dot)com
General Inquiries:
LAVIDGE – Phoenix
Mark Flores
480-648-7534
mflores(at)lavidge(dot)com