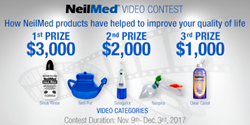 Show Us How NeilMed Has Improved the Quality of Your Life And Win Up to $3,000!
Santa Rosa, CA, USA (PRWEB) November 13, 2017
NeilMed® Pharmaceuticals, Inc., USA, makers of the world famous NeilMed® Sinus Rinse™, is hosting a contest for their social media followers for monetary prizes. There will be multiple prizes for video submissions on specific NeilMed products. The theme and title will be "How NeilMed products have helped to improve the quality of my life". Contestants will need to submit a video that is 60 seconds or less demonstrating the proper use of specific NeilMed products and include one statement on how NeilMed products have helped to improve the quality of their life.
The contest product selection includes NeilMed® Sinus Rinse Kit™, NeilMed® NasaFlo® Neti Pot, NeilMed® Sinugator®, NeilMed® Clearcanal® Ear Wax Removal Kit and NeilMed® Naspira®. Contestants can submit a maximum of two videos per for each adult nasal care product and one video for the ear care and infant products. Please see our NeilMed Facebook page for full contest guidelines and rules. We encourage contestants to use creativity and humor in their video submissions.
The contest submissions begins on November 9, 2017 at 6:00 PM PST and end December 3, 2017 at 11:59 PM PST, contestants must be at least 18 years old to participate. All contestants must either
1. upload their submission to http://www.neilmed.com/contest, including an e-mail address and phone number to be contacted at, or
2. alternatively, mail the original video on a DVD to:
NeilMed Pharmaceuticals Inc.
Attn: 2017 NeilMed Video Contest
601 Aviation Blvd
Santa Rosa, CA 95403 USA
Please enclose your contact information (e-mail and phone number) with the DVD. The top 25 videos with the highest numbers of votes at the end of our voting period will move on to the second round. Voting is open to the public on Facebook and will take place December 4th-10th, 2017; final selection process will take place December 11th-14th, 2017; winners for all product categories will be announced December 15, 2017. Each category will have a first place prize of $3,000, second place will receive $2,000 and third place will receive $1,000. All contestants who provide a home address will receive a free NeilMed® Sinus Rinse Kit™.
About the Company: In January 2000, Ketan C. Mehta, MD and Nina Mehta founded NeilMed® Pharmaceuticals, Inc. from Dr. Mehta's medical office, and since then the company has grown to 350 employees. NeilMed® is the largest manufacturer and supplier of LVLP (Large Volume Low Pressure) saline nasal irrigation systems in the world. The NeilMed® brand of products helps to alleviate common nasal and sinus symptoms in a simple, safe, effective and affordable way. In addition to nasal care, NeilMed has developed products for baby care, ear care, and first aid. The company supplies millions of products to end users through various trade channels. NeilMed® headquarters & manufacturing facility is based in Santa Rosa, California, USA. In addition, worldwide offices and/or warehouses are located in Canada, Australia, New Zealand, Costa Rica, Chile, Hong Kong, Singapore and Japan.
The mission of the company is to create and maintain safe, affordable, effective products to sustain long-term growth and create drug-free, effective devices for millions of consumers worldwide. Please visit our website http://www.neilmed.com for more details.