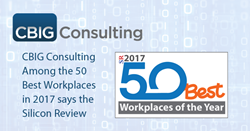 Chicago, IL (PRWEB) November 13, 2017
Business intelligence firm CBIG Consulting was recognized among other outstanding work environments by The Silicon Review in its "50 Best Workplaces of the Year" compilation for the November 2017 issue. The publication noted CBIG's success in building cohesion with collaborative programs and project engagements among its global office locations.
While CBIG has been acknowledged by numerous industry analysts in recent years for its groundbreaking work in BI and emerging data analytics technologies, The Silicon Review chose to highlight CBIG's philosophy of achieving corporate goals without encumbering staff and management with unnecessary bureaucratic red tape. Instead, the publication discovered, CBIG Consulting chooses to structure its programs within a staff-centric framework, to 1) promote networking and interaction among semi-autonomous office locations; and 2) provide strong mentoring and professional growth opportunities between seasoned professionals and talented new staff on leading-edge projects.
In addition, The Silicon Review's author states, "Since CBIG's work involves full-life cycle engagements, starting with strategy to deployment and ongoing management, staff can explore different roles as their experience and interests evolve. These roles range from Data Architect, Project Manager, Business Analyst, and Big Data Engineer to Front-end Developer, to name a few." The author also mentioned that while staff members can opt to work close to large metro areas, some professionals choose to take advantage of CBIG's travel opportunities to broaden their global perspective as CBIG expands its work into new markets.
About CBIG Consulting:
CBIG Consulting is a leader in Business Intelligence, Big Data Analytics, Data Warehousing, and Cloud-based Analytics platforms. Named a top BI and Big Data consulting firm by independent research organizations and publications, CBIG's management consultants, business analysts, data scientists, architects and engineers are seasoned professionals dedicated to the analytics space. CBIG works with global enterprises, mid-size businesses, and non-profit organizations in solving mission-critical reporting and analytical needs. For more information, please visit http://www.cbigconsulting.com