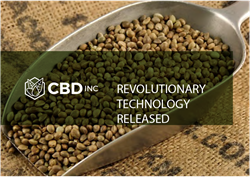 "Our Revolutionary mobile CBD extraction system allows production in the field at harvest time producing fresher product at a fraction of the cost"
San Diego, California (PRWEB) November 14, 2017
CBD Inc., a California-based CBD oil extraction technology company, is excited to announce successful trials of their first of its kind; all-in-one, very large scale CBD oil extraction system.
CBD oil or Cannabidiol has been in increasingly high demand over the last ten years by health supplement crowds who are actively looking for a natural remedy for a variety of health issues.
The capacity of CBD Inc's system is difficult to comprehend. Considering an average wholesale price of $10,000 per kg (2.2 lbs) of CBD, the machine can produce $22 million worth of CBD in a year using low-CBD European hemp (3% of CBD). In case of using high-CBD strains popular in the U.S. the production would correspondently grow in the same proportion.
CBD Inc's novel system is unique in that it is designed to semi-automatically handle a massive capacity of up to 440 pounds of biomass per hour in a continuous process. This system is mobile and can be transported directly to any field and the biomass can be fed in only minutes after harvesting by one person, producing fresher end-product and eliminating preservation, transportation, storage, drying and other related cost.
The system also allows for a variety of methods of feeding including forklifting machine collected bales or manually shoveling biomass in.
CBD Inc. is now leasing its proprietary systems worldwide with a turnkey delivery and extremely competitive price point says the CEO of CBD Inc, Tapio Maki. He continues that the company is dedicated to ongoing research and development and further expands its proprietary technology with efficiency and throughput and also side products.
To fast track further research and development the company recently opened a new stock offering. According to Mr. Maki the company is also developing further utilization of the remaining biomass to produce valuable compounds for sustainable energy.
About CBD Inc:
CBD Inc. is a diversified plant extraction company specialized in hemp Cannabidiol (CBD) oil technologies among other new inventions in the area of plant based sustainable energies and minerals. The company is driven by technology, production, distribution and research and development of its inventions.
For more information: CBD Inc. Phone: 1.619.7986949, Address: 215 S Hickory St. #220, Escondido, CA 92025, 1-844-HEAL-CBD, http://www.cbdincorporated.com