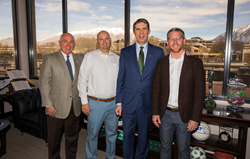 Jive's donation will help provide the funding needed to allow our program to get on its feet...
(PRWEB) November 13, 2017
Jive Communications made the first donation to the UVU Wolverine Fund last week. Matt Peterson, Chief Marketing Officer, and Mike Sharp, Chief Product Office, presented a check for $25,000 to President Matthew S. Holland in the President's office at UVU.
The Wolverine Fund is a donation-based, student-run private equity fund operating with the venture capital community in Utah. The Fund will finance a class, starting in January of 2018, where entrepreneur and finance students will make real investments and receive instruction from industry experts in the venture capital community.
The Wolverine Fund will mirror the Cougar Capital program at Brigham Young University in Provo, Utah, a program that Matthew Peterson, co-founder and CMO at Jive Communications attended while at BYU. Peterson said, "It was the greatest experience of my MBA program. The Wolverine Fund will be an eye-opening and door-opening opportunity for UVU students. It will provide them with real-life experience and help place them in a field that is otherwise difficult to enter. We're proud to donate to this cause and excited to follow its recipients' achievements."
"Jive's donation will help provide the funding needed to allow our program to get on its feet, and give UVU students in the program the opportunity to co-invest alongside private equity firms in big deals," said Jefferson Moss, Chief Operating Officer for the UVU Foundation.
About Utah Valley University
Utah Valley University is home to more than 37,000 students, which makes it Utah's largest institution of higher learning. UVU offers programs that range from career training to high-demand master degrees.
About Jive Communications
Jive provides cloud-based phone systems and Unified Communications services. Jive's customers include high-growth businesses and public sector institutions needing a scalable platform that is more flexible and cost-effective than their existing legacy systems. Jive's cloud architecture offers an integrated, seamless experience that provides richer context and creates more efficient connections between co-workers and clients. Jive's cloud delivery model ensures that each organization always has the latest technology, features, and applications—making Jive the last phone system you'll ever need.