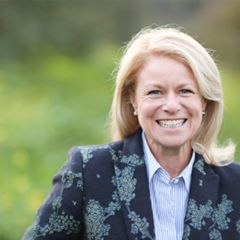 Tara's unrivaled track record in taking companies to the next phase of growth, plus her success in establishing organizations as category leaders, make her the perfect addition to the Skuid team
CHATTANOOGA, Tenn. (PRWEB) November 13, 2017
Skuid, the leading cloud business application design-and-deploy platform, announced today, the hire of Tara Ryan as chief marketing officer (CMO). An industry veteran with more than 25 years of global marketing experience in technology businesses, Ryan will lead Skuid's global marketing organization and continue to build the company's brand as it expands its footprint into new geographies.
Previously, Ryan served as the CMO of Coupa Software, where she developed the branding, marketing and communications efforts surrounding the company's successful initial public offering (IPO). During her three year tenure at Coupa, Ryan oversaw all aspects of the company's marketing and communications initiatives, including corporate marketing, communications, lead generation, investor relations, digital and social marketing.
"Skuid has achieved the trifecta of a successful business: a top-notch workplace culture, continuous innovation, and a platform that delivers real business value," said Ryan. "As business leaders and developers look to Skuid to simplify their enterprise applications, I'm thrilled to help drive the company's growth and lead an exemplary marketing team."
Earlier, Ryan served as senior vice president of marketing at Silicon Valley cybersecurity company Proofpoint. There, she integrated all aspects of the global marketing organization leading up to and beyond the company's IPO, and developed the company's programs and brand propositions following 15 acquisitions. She has also held marketing positions at brands including Zebra Technologies, Oracle, NetSuite and McAfee.
"Tara's unrivaled track record in taking companies to the next phase of growth, plus her success in establishing organizations as category leaders, make her the perfect addition to the Skuid team," said Ken McElrath, Skuid CEO. "Her extensive enterprise technology expertise and strategic thinking is exactly what we need to expand upon the company's vision."
About Skuid
Skuid was founded in 2013 on the simple belief that enterprise software should stop forcing people to behave like machines. Instead, apps should behave more like the humans who use them, so everyone can thrive in the digital world. With Skuid's simple-to-use but incredibly robust cloud front-end design-and-deploy platform, anyone can connect to disparate data sources, assemble highly complex, beautiful, bespoke applications, and instantly make changes—all without writing code. More than 5 million users across 32 countries use Skuid to engage with each other, with data, and with new customers in meaningful ways.