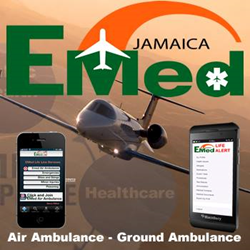 When you prepare for the emergency the emergency ceases to exist
Alachua, FLorida (PRWEB) November 13, 2017
Duane Boise and his team have created a remote monitoring device that is in line with the recent shift in the healthcare industry towards more patient-centric care. Patients who have been diagnosed with high blood pressure and, as a side effect, are at risk of developing other serious, life threatening conditions, would benefit greatly from this device. With EMED Jamaica's remote monitoring device, individuals can monitor their blood pressure from the comfort of their own home.
Duane Boise has always had patients at the center of his philosophy for healthcare. His company, EMED Jamaica, was built upon the foundation that patients from every part of the world, from every background, and from every financial situation deserve top-quality care available to them when they need it most. In order to do this, Duane Boise stresses the importance of telemedicine. Not only do patients have more access to doctors, nurses, and loved ones, but professionals can easily access urgent medical records and information from virtually wherever they are.
This inspiration for transforming the face of healthcare happened after Duane witnessed a hotel guest suffer a mild heart attack in the Caribbean while on vacation over 20 years ago. When asked about the experience, Duane said, "I noted a serious need for efficient emergency medical services in the region in that moment. I knew I had to dedicate my career to improving medical services by creating cost-efficient and reliable technology to enhance the care of patients from all over the globe."
EMED Jamaica is offering the remote medical monitoring kits that will be available to the public for purchase. The EMED kits will have several very important medical monitoring devices, such as: an O2 SAT monitor that is used to measure oxygen levels in the blood, a blood pressure monitor, and a proprietary telemedicine phone allowing patients access to physicians. All the remote medical monitoring devices will also record and organization these important vital measurements. Every time an individual checks their blood pressure, the information will not only be sent to their personal app, but their physician will also have access to this data on their own version of the dashboard. If the number is dangerously high - enough to warrant a stroke or heart attack - an alert is sent directly to the doctor and immediate action is taken.
About Duane Boise: Duane Boise is the CEO of EMED Jamaica. He is driven by innovation and the possibility of helping to change the healthcare industry one piece of technology at a time. His focus is combining the services of ambulances, air ambulances, local healthcare services, and health information technology systems in order to improve care, thus offering medical services that will help to prolong and save more lives. Currently, his company's reach extends into Florida, Canada, Jamaica, and the Caribbean region. Follow Duane Boise's pursuits online.