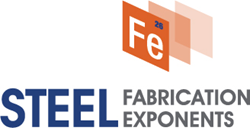 Florida (PRWEB) November 15, 2017
Steel Fabrication Exponents (Steel FE) is one of the fastest growing steel fabrication companies in the United States. Steel FE first entered the market 2 years ago after acquiring struggling steel fabricators in the U.S. After such a strong performance around the world the board of Steel FE decided that it is time to enter the U.S market based on the increased construction activity.
It is rumored that Steel FE is backed by major executives and mentored by a U.S retired general who saw the need for a strong steel fabricator with international experience. Currently at this pace Steel FE should have revenues of 100 million by 2022.
It was asked of Steel FE to explain its logo: "Fe is the chemical symbol of iron."
Steel FE top managers has a combined history and experience of more than 50 years of working in the United States and around the world. Their primary focus is on structural and miscellaneous fabrication. To learn more about Steel FE go to http://www.steelfabfe.com