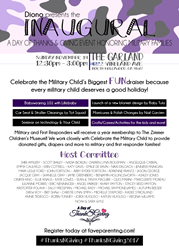 "Being able to give back to the Military and their families is our entire reason for hosting this event," Aubrye Foote and Courtney Vera, FaveParenting Co-Founders.
LOS ANGELES (PRWEB) November 13, 2017
FaveParenting is hosting its Inaugural "A Day of Thanks & Giving" event on November 19, 2017 at The Garland Hotel in North Hollywood, CA. Celebrities, military, brands and families will come together to honor our military and first responders. Attendees are asked to bring diapers, unwrapped toys or new clothes to donate to the military families. Celebrate the Military Child is the charitable partner of FaveParenting and will deliver the items directly to those military families in need. In addition, the event educates families on brands such as Diono, Ju-Ju-Be, Lillebaby, KidsEmbrace, Baby Tula, Joovy, and more, along with speaking topics on Babywearing 101 and Technology and Your Child. Attendees will receive Ju-Ju-Be gift bags filled with items from event sponsors.
HOST COMMITTEE: Shiri Appleby, Scott Bailey, Nadia Bjorlin, Darren Lynn Bousman, Angelique Cabral, Emma Caulfield, Scott Clifton, Erin Cottrell, Katy Davis, Emilie de Ravin, Nikki Deloach, Jennifer Finnigan, Mark Leslie Ford, Abby Ryder Fortson, John Fortson, Adrienne Frantz, Jason George, Jacque Gray, Shanelle Gray, Jamie Greenberg, Benjamin Hollingsworth, Ashley Jones, Ginifer King, Ellie Knaus, Katie Lowes, Sean Maguire, Gilles Marini, Marguerite Moreau, Julianne Morris, Eric Nenninger, Angel Parker, Khary Payton, Kristoffer Polaha, Sally Pressman, Michael Rady, Michael Raymond-James, Autumn Reeser, Drew Roy, Brit Shaw, Christie Lynn Smith, Michelle Stafford, KaDee Strickland, Annie Tedesco, Robin Tunney, Kaitlin Riley Vilasuso, Jordi Vilasuso, Virginia Williams, and Noah Wyle.
WHAT: A Day of Thanks & Giving will include:

Red Carpet photos
Celebrity Breakfast where celebrities, military and brands can give thanks and enjoy a Thanksgiving inspired breakfast
Presentations on Babywearing 101 by Lillebaby and Technology and Your Child
Sponsor Booths see the latest products and engage with Diono, Ju-Ju-Be, Lillebaby, KidsEmbrace, Baby Tula, Joovy, My Travel Tray, Happy Our, KIND, Greater Ink, spbang and more.
Stroller and car seat cleanings provided by Tot Squad
Activity area with lots of fun for little ones sponsored by Single Moms Planet and princesses provided by Los Angeles Princess Company
Manicures & Polish changes for adults and kids by Nail Garden
All attendees will have the opportunity to socialize, enjoy refreshments and connect with participating brands as well as leave with a Ju-ju-be gift bag.
FaveParenting has partnered with Celebrate the Military Child, asking attendees to bring a donation of diapers, new clothes or unwrapped toys in exchange for an additional raffle ticket for amazing giveaways.
WHEN: Sunday, November 19, 2017 – 10:30am-12:30pm (celebrities & military only), 12:30 – 3:00pm (open to the public)
WHERE: The Garland Hotel – 4222 Vineland Ave., North Hollywood, CA 91602
MORE INFO and TICKETS: http://faveparenting.com/
PR CONTACTS: Aubrye Foote and Courtney Faith Vera, faveparenting(at)gmail(dot)com
Social Media Tags
#ThanksNGiving
@FaveParenting (Facebook, Twitter and Instagram)