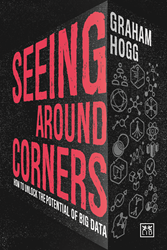 Recommended for anyone looking to build a data-driven culture across their business. —Ryan Den Rooijen, Head of Data, Dyson
NEW YORK (PRWEB) November 14, 2017
Airbnb has grown to a valuation of more than $30 billion, seemingly disrupting an entire industry overnight. How were they able to scale so quickly and efficiently? Two words: data and insights. During the sharing economy behemoth's early start-up stages, the founders were able to have face-to-face living room conversations with their customers to better understand their needs and pains. As the company grew, they were able to scale this data-driven model, ensuring the relationship with their consumer base remained just as tight as in the early days. It's precisely this type of data-fueled growth that drives Graham Hogg. As the founder and CEO of Connectworxs, Graham is passionate about helping organizations achieve growth by creating the right data-driven behaviors to achieve their ambitions. That passion is ever present in his timely book, "Seeing Around Corners: How to Unlock the Potential of Big Data" (LID Publishing, 2018).
Drawing upon a 15-year career in big data—beginning as a Royal Marines Intelligence Officer stationed in Afghanistan—Graham strongly believes that fostering a data-driven culture throughout all aspects of daily business is the way forward. "All companies can collect data," Graham says, "and in the information age, technology and the access to data is available to all at an increasingly low cost. But only the organizations that can gain a heightened level of understanding from data will be successful."
"Seeing Around Corners" opens with Graham's vivid recount of being hit by an IED while leading a convoy across Kandahar province in Afghanistan—a misfortune that could have been avoided had crucial data been passed from high-level operatives over to Graham and his 40-vehicle team. This powerful example sets the stage for a thought-provoking "how-to" guide of sorts, broken down by three definitive parts: building a data-driven culture, turning data into understanding, and developing skills and language. Summed up acutely on page 26, Graham's overarching goal is to "move away from an execution mindset and on to a discovery mindset." Graham adds, "To do this, it is essential to build a more connected organizational decision-making capability. This is not a technical challenge for organizations and leaders alone, but rather a cultural one, to break data silos and share insights across team boundaries. When organizations get this right, data will be the source of adaptability, so that they can be a step ahead of change, risk, and growth before the competition—so they can see around corners."
"'Seeing Around Corners' is the how-to guide for a modern data-driven business leader, with brilliant first-hand experiences from Graham, linked to real pearls of wisdom with fascinating real-world business examples. The chapter on messy teams is genius. This is the must-read business book of the year." —Paul Brook, Director Data Analytics EMEA, Dell EMC
"Combining experiences from the author's time in Afghanistan with powerful corporate examples, 'Seeing Around Corners' is a practical guide to changing the way your company thinks about and acts on data. Recommended for anyone looking to build a data-driven culture across their business." —Ryan Den Rooijen, Head of Data, Dyson
"Seeing Around Corners" is currently available for pre-order on Amazon and will officially go on sale January 9, 2018. Graham is donating 100 percent of book royalties to US & UK military charities.
About Graham Hogg
As Founder & CEO of Connectworxs, Graham is passionate about helping organizations achieve growth by creating the right data-driven culture. Graham began his career as a Royal Marines Officer, specializing in intelligence. This experience led him to the belief that teams that ask better questions to data will fuel growth for their organizations. He believes that the role of leadership in the information age is to provide a clear and compelling purpose that can act as a handrail for teams to plan and execute strategy against, using data. Visit: Connectworxs.
About LID Publishing
LID Publishing specializes in working with business authors and organizations to help them develop content to promote their brand, message, and expertise. Founded in 1993, LID has over 1,700 authors and continues to add approximately 120 new titles each year. Visit: LID Publishing.