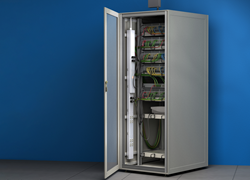 With Cabinet Busway, the benefits of our Starline Track Busway product have now been extended into the rack
CANONSBURG, Pa. (PRWEB) November 14, 2017
Starline, the leader in flexible, customizable power distribution and critical power monitoring solutions for the mission critical/data center, science, technology, industrial and retail markets, has released the Cabinet Busway Series of the Plug-In Raceway product line. This new series can accommodate high density power requirements within server cabinets while also encompassing the main benefits of the Starline brand: product customization and flexibility.
"We are excited to now offer a solution for inside the cabinet that will help address changing power requirements, legacy and varying equipment loads, and high-power devices. With Cabinet Busway, the benefits of our Starline Track Busway product have now been extended into the rack," stated Mark Swift, director of marketing for Universal Electric Corporation.
The Starline Cabinet Busway Series can provide up to 3-phase, 63 amp power through 480Vac. Installed in your cabinet or rack, each system unit comes with a corded plug and modular backplane where you have the ability to select the plug-in units to meet the equipment needs of servers, storage arrays, network gear, or other devices installed in the cabinet. The plug-in unit modules can be custom designed with a variety of options for receptacles, circuit breakers, module sizes and colors. The plug-in units can be easily changed over time, as the need for power within that particular cabinet changes. The Cabinet Busway Series also offers optional metering functionality for those interested in monitoring and improving their energy efficiency.
Starline's flagship product in the mission critical space, Track Busway, has been providing power to server cabinets for nearly 30 years. The ability to plug into power anywhere along the busway run coupled with the customization of the product plug-in units has made Starline Track Busway the industry leading overhead power distribution provider in the U.S. data center market. The Cabinet Busway Series offers the same product advantages while also integrating seamlessly with Track Busway—providing customers with reliable, customizable power solutions both above and within their server cabinets.
About Universal Electric
Universal Electric Corporation (UEC), a pioneer in electrical power distribution since 1924, is a world leader in the development of customizable power distribution systems. Industry innovators for more than 85 years, the company's premium, flexible products are designed to fit the electrical power needs of any business in any industry. One of the only companies dedicated exclusively to flexible power distribution products, Universal Electric's award-winning Starline and U-S Safety Trolley products have revolutionized electrical power distribution in data centers, industrial manufacturing facilities, retail chains and grocery stores worldwide. For more information, visit: http://www.uecorp.com.