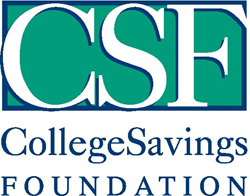 Parents today are comfortable with online college gifting options and willing to engage their family and their circle of friends who share their savings goals. -- Richard J. Polimeni, Chair of College Savings Foundation
WASHINGTON (PRWEB) November 15, 2017
This holiday and year-end gifting season, American families are embracing the ease and abundance of college savings tools such as customized gifting websites, e-gift cards, online registries and gift certificates. New data from the College Savings Foundation (CSF) 2017 survey of parents found that 95% said 529 college savings gift registries and online gifting tools would make college savings easier. CSF members who are 529 plan sponsors, managers and innovators are making these gifting options available to savers, with some seeing substantial increase in use in year-over-year participation.
"Parents today are comfortable with online college gifting options and willing to engage their family and their circle of friends who share their savings goals," said Richard J. Polimeni, Chair of CSF, a leading nonprofit helping American families save for higher education.
CSF's survey found that 58% of parents would ask friends and family to help by making a gift of college savings instead of a material gift.
CSF members reported significant increases in 529 college saving gifting contributions in the past few years as the availability and ease of use of these gifting tools has improved. For example, Fidelity has seen a 40% increase for the year ending 9/30/17; and California's ScholarShare 529 has seen a 67% increase in eGift contributions in the first nine months of 2017 compared to the same period in 2016. GiftofCollege reports that its Gift Cards have seen over 25,000 individual gift cards redeemed so far in 2017 to accounts of nearly every 529 plan and student loan provider in the nation.
While December and January are popular months for gifts, interest in gifting options is not limited to holidays, as CSF members indicate increasing interest in college savings gifts for birthdays, baby showers and graduations.
Increasingly, 529 plans are offering customized web pages with information about the family or child, including quotes, photos and even avatars. In addition, social media sites such as Facebook and Twitter help parents get the word out about the 529 college savings plan accounts they own for their children. These provide a link to a website where friends and family can contribute directly to a 529 college savings account. CSF members also offer gift certificates or coupons that can be downloaded, printed and used in a gift card or box. All are geared to encourage family and friends to contribute to a child's higher education by providing an easier way to contribute, and by eliminating administrative steps.
"In addition to holiday gifts, year-end is also a time when grandparents, friends and other family may want to take advantage of Federal gift tax rules," Polimeni added. In 2017, Federal gift tax rules allow up to $14,000 for an individual and $28,000 for a joint gift by spouses – and up to five years' worth of up front gifting totaling as much as $140,000 for a couple under the gift tax exemption. In addition, 34 states provide a state income tax deduction or credit for contributions to a 529 account. Most states allow the deduction/credit only if the contribution is made to the home state 529 plan. However, five states (AZ, KS, MO, MT and PA) allow the deduction for contributions to any state's 529 plan.
CSF member programs offering gifting options include the College Savings Bank, a Division of NexBank SSB; the 529 plans administered by Fidelity Investments (New Hampshire, MEFA/Massachusetts, Arizona and Delaware); Franklin Templeton; Learning Quest 529 Education Savings Program; MI 529 Advisor Plan; NEST Direct and NEST Advisor College Savings Plans of Nebraska; the Ohio CollegeAdvantage Direct 529; California ScholarShare 529 Plan (both direct and in partnership with GiftofCollege.com); Alaska UA College Savings Plan; Utah Educational Savings Plan (UESP), and the Virginia529 Plan (direct online and in partnership with Gift of College for gift cards). In addition, GiftofCollege.com is a college savings gift registry which may be used for gifts to any state's 529 plan.
For more information on CSF member gifting programs, see https://www.collegesavingsfoundation.org/csf-member-gifting-programs/
The CSF State of College Savings survey of parents was conducted through survey monkey with an audience from philipgarland.com LLC of 800 parents across the country and evenly divided across income levels.
The College Savings Foundation (CSF) is a Washington, D.C.-based not-for-profit organization helping American families save for higher education. For more information and an infographic on these findings, please go to http://www.collegesavingsfoundation.org