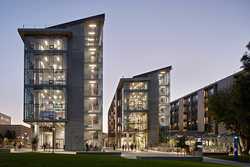 "University of California - Irvine Mesa Court Towers redefines student living"
(PRWEB) November 14, 2017
University of California-Irvine's Mesa Court Wins DBIA's 2017 Project of the Year
Student Residential Project Redefines the College Living Experience
The nation's leading design-build association has named UC-Irvine's Mesa Court student housing towers it's 2017 Project of the Year.
"The Mesa Court project provides a state-of-the art, dynamic community hub for students, faculty and the entire community, relegating the very idea of dorm living to the dusty pages of old college yearbooks. This project exemplifies the best of what design-build delivers in projects nationwide. Innovation and collaboration delivered not only a spectacular student residence but a real contribution to the entire UC-Irvine community."…Lisa Washington, Executive Director/CEO
This 250,000 square-foot expansion project includes new residence halls, study rooms, computer labs, great rooms, a fitness center, recreational room, student office space, community kitchenettes and laundry facilities – not to mention a cutting-edge dining facility which redefines the concept of college cafeteria dining. Mesa Court Towers is a dynamic student life hub developed as three five-story midrise residence halls above a large podium containing diverse community spaces for the building's 884 residents. Shared amenities include flexible classrooms and study rooms, group kitchens, a fitness center, student center and lounges.
The Mesa Court design-build team's goal to create a "learn to live" environment was based on the understanding that learning does not stop after students leave the lecture hall. Blending student life and academic life is key to a fulfilling campus-living experience. Mesa Court Towers was designed with versatile educational and recreation spaces interspersed throughout the building creating a vibrant nexus of student life around the clock.
DBIA's Project of the Year embraces all aspects of Design-Build Done Right™ and goes far beyond the basic requirements of DBIA awards submissions. The winner of this award demonstrates innovative solutions to project challenges, delivers a unique and high-quality design, effectively utilizing emerging technology and exceeding expectations for project outcomes. All projects submitted for DBIA project awards, regardless of size or sector, are considered for this honor.
All of the 2017 national design-build award winners can be found online.
Project Snapshot
Owner: University of California, Irvine
Design-Build Firm: Hensel Phelps
General Contractor: Hensel Phelps
Architect: Mithun, Inc.
Engineers: KHR Associates, Michael Wall Engineering
###
The Design-Build Institute of America, based in Washington, D.C., is the only membership organization bringing together thousands of organizations and individuals representing architects, engineers, owners, contractors, manufacturers (and more) to define, teach and promote best practices in design-build.
Media Contact:
Kim Wright, DBIA Strategic Communications Director
Office: (202) 454-7531, Cell: (703) 244-5692
kwright(at)dbia(dot)org
Nathan Smith, DBIA Communications Associate
Office: (202) 454-7519 nsmith(at)dbia(dot)org