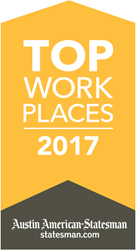 AUSTIN, Texas (PRWEB) November 13, 2017
Software Advice, a trusted resource for software buyers, today announced it was named a Top Workplace by the Austin American-Statesman. This year marks the fourth time Software Advice has been honored with the award, most recently in 2016.
"While the mission of Software Advice is to help businesses succeed by connecting them with the right software, it's my ongoing personal mission to make Software Advice the best place to work," said Austin Merritt, Software Advice Co-Founder and General Manager. "I am proud of the dynamic, driven, and inclusive culture we have built together over the past 10 years. As our company grows, we will continue to work hard to make it even better," Merritt added.
Work-life balance and an environment that encourages new ideas and different points of view were among the strengths recognized by Software Advice employees. Along with competitive benefits, the company also offers a range of perks and team-building activities including book clubs, yoga classes, and its unique work abroad program.
The Top Workplace designation is based solely on an employee feedback survey administered by Energage, LLC, an independent research firm specializing in organizational health and workplace improvement. Energage partners with more than 40 media partners across the U.S. to conduct Top Workplaces programs, published in Austin by the Austin American-Statesman. For more information, about Top Workplaces, visit topworkplaces.com. For information about career opportunities at Software Advice, visit softwareadvice.com/careers.
About Software Advice:
Software Advice is a trusted resource for software buyers. We provide detailed reviews and research on thousands of software applications. Our team of software advisors provides free telephone consultations to help buyers build a shortlist of systems that will meet their needs.
Software Advice is a Gartner company. Gartner (NYSE: IT) is the world's leading research and advisory company.