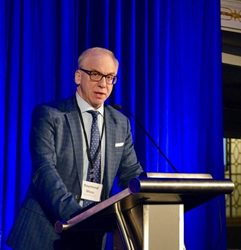 ATLANTA (PRWEB) November 14, 2017
Moss & Gilmore LLP announced today on behalf of their client Kamal Al Sultan, a Kuwaiti businessman and U.S. military contractor of base camp logistics and support, that he was named "2017 Whistleblower of the Year" at the Taxpayers Against Fraud Education Fund ('TAF") Annual Awards Dinner on November 2, 2017 in Washington, D.C. TAF is a nonprofit public-interest organization and is the preeminent public-interest organization dedicated to combating fraud against the government and protecting public resources through public-private partnerships.
In making the award, members of TAF noted that this was a whistleblower case of international significance and stands as the highest alternative remedy ever recovered (leading to a much higher whistleblower award) in the 150-year history of the False Claims Act.
Raymond Moss, Mr. Al Sultan's attorney, accepted the award on Mr. Al Sultan's behalf. Mr. Moss expressed gratitude to the men and women who have bravely served our country and to whistleblowers, calling them true heroes. An audio recording of Mr. Moss's acceptance speech for the Whistleblower of the Year Award and his remarks can be found here.
Mr. Al Sultan initiated his whistleblower lawsuit in 2005. The suit alleged fraud on the part of publicly traded Kuwaiti-based Agility Public Warehousing Company "("PWC") and its affiliate, The Sultan Center ("TSC"). PWC was the prime vendor to feed U.S. and coalition troops in Iraq, Iran and Jordan from 2003–2010, pursuant to $8.5 billion worth of prime-vendor food contracts.
Under agreements finalized earlier this year with the Department of Justice ("DOJ"), among other things, PWC payed $95 million and relinquished significant potential claims worth several hundreds of millions of dollars in pending litigation claims filed by PWC against the Defense Logistics Agency.
According to whistleblower Mr. Al Sultan, "Raymond Moss and his team at Moss & Gilmore were highly effective, skilled and tenacious advocates over this entire 13-year battle. They never took their foot off the gas and, with DOJ, went toe to toe against six of the largest and most powerful law firms in the country."
"This is one of the largest military procurement fraud cases in the history of the False Claims Act, passed by Abraham Lincoln to combat war profiteers and one of the largest whistleblower awards ever in a military-procurement fraud case," said Raymond Moss, Mr. Al Sultan's lawyer. "Mr. Al Sultan's unrelenting perseverance to see justice done for U.S. taxpayers and the troops who bravely fought in the two Iraq Wars to protect Kuwait is awe inspiring and a classic David vs. Goliath story. This case proves the power and efficacy of the False Claims Act to right wrongs and expose and deter fraud anywhere in the world."
The filing of Mr. Al Sultan's lawsuit in 2005—and its resulting DOJ investigation—resulted in sweeping governmental changes in prime food-vendor contracts to reflect greater pricing transparency, prohibitions on kickbacks and rebates and prompt payment discounts, saving the U.S. government and taxpayers billions of dollars. Mr. Al Sultan's whistleblower lawsuit also spawned the initiation of other DOJ investigations, whistleblower lawsuits, prosecutions, settlements and convictions against other prime vendors and their suppliers for similar conduct.
Copies of the May 2017 press releases announcing the settlement can be found at http://www.mossgilmorelaw.com.
The False Claims Act fosters a private-public partnership to fight fraud against the government. The law encourages whistleblowers to file civil lawsuits against companies that are defrauding the government by offering job protection against retaliation and a reward of 15 to 25 percent of the government's civil recovery if the government joins or intervenes in the case. Under the False Claims Act, the United States may recover three times the amount of losses, plus civil penalties.
About Moss & Gilmore LLP: With offices in Atlanta and New York, Moss & Gilmore LLP represents whistleblowers in the U.S. and worldwide in federal and state false claim whistleblower and related retaliation cases, involving healthcare fraud and military procurement fraud. Moss & Gilmore LLP represents whistleblowers in cases under the False Claims Act and claims under the U.S. Securities and Exchange Commission, Commodity Futures Trading Commission involving securities and commodities fraud and IRS whistleblower reward programs. For more information, visit http://www.mossgilmorelaw.com.
###