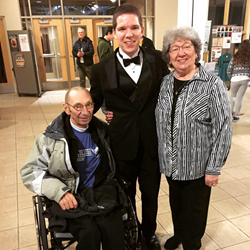 Concord, CA (PRWEB) November 14, 2017
Bay Alarm Medical (https://www.BayAlarmMedical.com), a leading supplier of medical alert systems for seniors, today announced its 2018 "Seniors Helping Seniors" Scholarship essay program. The company will be offering three private scholarships to students who devote their time to helping the elderly.
"This is the third year we've offered scholarships to deserving college students," says Alan Wu, Director of Sales and Marketing for Bay Alarm Medical. "We've gotten such great feedback that we've again increased the size of our scholarships."
Bay Alarm Medical will award scholarships of $3,500, $2,000 and $1,000 to the three students who submit the best essay describing how working with seniors has shaped their lives.
Participating students must be involved in volunteer work with the elderly, or must act as a caregiver for an elderly relative living in their home.
"We want to encourage more young people to act as caregivers," says Wu. "We think that being a caregiver helps build character. And we believe that seniors have a lot of life lessons they can pass on to young people."
Essays must be submitted by March 31, 2018. Scholarship winners will be notified by April 30, 2018.
Students must meet eligibility requirements to qualify for a scholarship. They must be a graduating high school senior or currently enrolled in an undergraduate program at a U.S.-based college or university for the 2018-2019 school year.
To learn more about the Bay Alarm Medical 2018 Scholarship Program, visit https://www.bayalarmmedical.com/scholarship/.
About Bay Alarm Medical
Bay Alarm Medical is an arm of Bay Alarm, one of the nation's oldest alarm monitoring companies. The company offers landline, cellular and mobile GPS medical alert systems together with 24/7 monitoring by professionally training emergency operators who contact family members, friends, neighbors and, if necessary, local 911 emergency services.
For more information, visit the company's website at https://www.bayalarmmedical.com or call 877-522-9633.