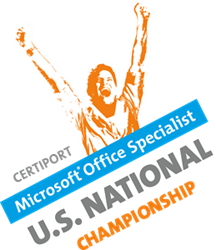 Salt Lake City, Utah (PRWEB) November 13, 2017
Certiport, a Pearson VUE business, has launched the 2018 Microsoft Office Specialist (MOS) U.S. National Championship to promote the value of certification and showcase student competitors with expert skills across Microsoft Word, Excel, and PowerPoint. Following fall and spring qualifying rounds, the top winners from each state will be invited to advance to the U.S. National Championship in Atlanta, Georgia, June 13-15, 2018.
U.S. students ages 13 to 22 are eligible to participate in one of six competition tracks by submitting an accepted passing score earned during the qualifying events across the following exams: Microsoft Office Specialist Word (2013 or 2016), Microsoft Office Specialist Excel (2013 or 2016), and Microsoft Office Specialist PowerPoint (2013 or 2016). Eligible scores must be submitted by Dec. 15, 2017 following the Fall Qualifier, and May 11th, 2018 for the Spring Qualifier. Up to 12 MOS State Champions, one per track during each qualifier, will be named and invited to represent their state and compete at the 2018 MOS U.S. National Championship.
"The number of students entering this competition in the United States continues to grow rapidly – we had more than 320,000 total entrants last year, and many U.S. Champions have gone on to compete- and place- at the MOS World Championship where they matched up against students from all over the world," said Aaron Osmond, General Manager, Certiport. "More importantly, the level of expertise is astounding - we are so pleased to see this competition not only promote industry-endorsed certification, but also prepare students for long term college and professional success."
During the 2018 MOS U.S. National Championship event, student competitors will take a unique exam in their track, further testing their knowledge of the applications. One winner per track will be named the 2018 MOS U.S. National Champion, and each will win an all-expenses-paid trip to compete in the 2018 MOS World Championship in Orlando, Florida, July 29 – Aug. 1, 2018.
About Certiport
Certiport, a Pearson VUE business, is the leading provider of certification exam development, delivery and program management services delivered through an expansive network of over 14,000 Certiport Authorized Testing Centers worldwide. Certiport manages a sophisticated portfolio of leading certification programs including: the official Microsoft Office Specialist certification program, the Microsoft Technology Associate certification program, the Microsoft Certified Educator program, the Adobe® Certified Associate certification program, the Autodesk Certified User and Autodesk Certified Professional certification programs, the Intuit QuickBooks Certified User certification program, and the IC3 Digital Literacy certification. Certiport reliably delivers over three million tests each year throughout the secondary, post-secondary, workforce, and corporate technology markets in 148 countries and 26 languages worldwide. For more information, http://www.certiport.com or follow Certiport on Twitter at http://www.twitter.com/certiport.
"Certiport" and "MOS" are registered trademarks of Certiport, Inc. in the United States and other countries. The names of actual companies and products mentioned herein may be the trademarks of their respective owners.